June 17, 2020
Dear First Church Friends,
Following our viewing of "The Cross and the Lynching Tree" by the Rev. Dr. Otis Moss III last Sunday (on YouTube here), our denominational officer who programmed that event, the Rev. Dr. Velda Love, has shared several key online events.
Here you will find follow up materials to that sermon: A Statement from the National Officers of the United Church of Christ – The Cross and the Lynching Tree Webinar Video.
In addition, this Friday morning provides a special online event to observe Juneteenth. Juneteenth observances invite entire UCC to recall slavery's end and commit to action. Friday is Juneteenth, our national celebration of the ending of enslavement. This date commemorates June 19, 1865, when United States General Gordon Granger read federal orders in Galveston, Texas, that all previously enslaved people in Texas were free. This marked the arrival of the Emancipation Proclamation into the areas of Texas where Confederate-minded enslavers had fled to maintain their practices. News of the Proclamation took two and half years to reach the deep Confederate pocket of Galveston, while other areas of the country still lagged in observing freedom. Register for Juneteenth 2020 here.
For those seeking a deeper process of education, UCC members and friends are welcome to register for the Sacred Conversations to End Racism at the Summer Institute 2020 Wednesday July 8.
Regarding the logistics, these ministries are supported by our congregation's financial pledge to "Our Church's Wider Mission," which is the historic name of our giving program to the national church. You do not have to be a member of First Church to participate in national United Church of Christ education and social justice action programs; you can sign up directly with the national website: ucc.org, as listed above. I encourage you to explore and find the many resources that help us move from good intentions to well-informed action.
Sending prayers,
Elena Larssen
June 10, 2020
Dear First Church friends,
Sometimes we are aware we are watching history be made, and we pray we are seeing history be changed.
On Sunday, May 31, at 6 pm EST, the United Church of Christ broadcast a live viewing of the Rev. Dr. Otis Moss III's cinematic sermon preached at Trinity UCC Sunday, May 17, entitled The Cross and the Lynching Tree: A Requiem for Ahmaud Arbery. Following the live video, a panel discussion with four respected thought leaders, racial justice advocates, and UCC pastors discussed the impact of historical and present day acts of racism and violence towards African Americans and how the Christian Church can be actively involved in dismantling racism.
This Sunday, we will utilize the Virtual Church mode of our worship to experience a powerful sermon by the Rev. Dr. Otis Moss III from Trinity United Church of Christ. Trinity UCC is the largest church in our denomination, headquartered on the South Side of Chicago, and famously witnesses under their historic motto, "Unapologetically Black and Unashamedly Christian." Joining in a movement with congregations across our national church, we will participate in viewing a powerful filmic sermon by one of the finest preachers of our time, within the live stream of our regular service. This powerful moment amplifies the prophetic voice of Dr. Moss and connects us with the conversation in our wider church.
I will still be "live on the corner of justice and arts" to lead the pastoral elements of the service, and our marvelous Music Department will be sharing some special Pride Month gifts to lift our spirits.
"Racism is a virus. It infects the spirit." – The Rev. Dr. Otis Moss III
Let us keep our spirits alive to listen, learn, act, and make change within our hearts and our communities.
Elena Larssen
June 3, 2020
Dear First Church friends,
Our community, like so many, is faced with the challenge of multiple crises occurring at one time.
In Zoom meetings, and emails, and on the phone, our church leadership are working to manage the pandemic response and move forward with church programming, provide spiritual life and emotional support to one another, re-imagine worship and technology to provide high-quality virtual church into the future, while the Board for Social Justice and Outreach are working to find the most constructive ways to express support for racial justice and Black Lives Matter. All while getting the rose window back in the wall.
All of this requires communication. Listening, truly listening. Sharing the space and releasing the need to dominate and "fill the space."
To encourage a climate of values-based communication, our Executive Committee of the Church Council researched and shaped this statement as a guide for our values around communication:
We are a Christian community of faith that offers one another comfort, support, and love. Therefore, we take the most generous approach to each other as possible — appreciation, gratitude, and, above all, respect. We listen, we work to find common values, and we endeavor to understand our own biases. We know there is a place for disagreement, but our approach is to build consensus — that's what will bring enduring change. Whether in meetings or in our written communications, no matter the issue at hand, we expect clarity, concision, civility, and honesty.
I encourage all the boards, teams, committees, and gatherings of the church to read this aloud at their next occasion. In this time of global uprising, may this be a gift to our church that helps us listen and learn from one another in love.
Sending love and prayers,
Elena Larssen
May 27, 2020
Dear First Church,
I am pleased to invite you to a special event on Monday, June 1, at 7 p.m.!
In honor of Pentecost, the Board of Cultural Arts and the Worship and Arts Ministry Team have prepared a film and discussion called "Listening for Wisdom: A Poetry Event."
With original poetry by our Poet-in-Residence Tina Datsko de Sánchez and original composition by our Director of Music and Composer-in-Residence Curtis Heard, this bilingual poetry reading is open to all. Film editing is by church member Kathryn Boyd-Batstone, recently graduated from USC film school.
This series was written and translated for our Lenten worship series but interrupted by all the current events of pandemic and stay-at-orders. Adapting, the Worship and Arts team has created a film version and are hosting a live discussion online after the Monday night premiere. The film will run about 18 minutes, and the discussion will begin shortly after. Tune in on the FCCLB YouTube channel at 7 pm, and then join the discussion on Zoom immediately afterward.
We are a community of many languages, many voices, and many dreams. Thank you for celebrating Pentecost with First Church on Sunday and Monday evening, too!
Sending love and prayers,
Elena Larssen
May 20, 2020
Dear First Church friends,
Pentecost is coming! This is your Pentecost-themed photo call: flames, wind, the color red, and images from around the world…please send us your pictures and help us celebrate the holiday that brought cultures together and inspire energy in community!
Here are a few photos to inspire you…yours may be sent to the office manager: office@firstchurchlb.org.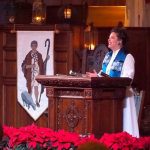 First Church, Christmas 2019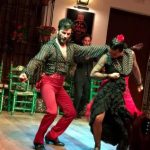 Sevilla, Spain 2019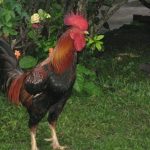 Davao City, Philippines 2020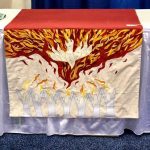 Communion Table, United Church of Christ Synod 2019 in Milwaukee WI
Peace and prayers,
Elena Larssen
May 13, 2020
Dear First Church friends,
Continued thanks to our Emergency Response Team! Every week the Rev. Katy Hyman, Dr. Shom Dasgupta-Tsinikis, and Dr. Bob Kalayjian are connecting with me to review the orders and make sure that the whole campus is safe and secure.
What is it like on campus? Clean and quiet. Full of a sense of prayer – decades of love and justice have permeated the environment and it's as though the very bricks are holding a vigil for us, reminding us to be patient and faithful.
What's the news? Nothing much – there are no new standards for practice at 241 Cedar to report this week. We continue to be on Stay at Home orders and are not open to the public, including our own membership. The church staff, elected leaders, and volunteers are working hard from home to adapt our programs and administration to keep our congregation and affiliated ministries vibrant.
On site, in keeping with the order:
Preservation construction has resumed this week, with a micro-crew of construction staffers allowed only in the historic building during the week.
Un Mundo Preschool is operating with highly modified practices and a small number of children.
UCO and DAYS are working to provide groceries to the families and clients of those programs. Deep thanks to all who are donating to make this possible!
On Sundays, I am onsite for livestreaming the service with David, our audio tech. In the afternoon, musicians come one or two at a time to record the music for subsequent services. At this time, no volunteers are permitted to record on site.
During the week, maintenance staff are securing, cleaning, and sanitizing the building, and catching up on painting and repairs. We have minimal administrative staff and officer visits to keep the mail and financial operations flowing. By Personnel Committee recommendation, our staff people are kept on payroll, even if they have to stay home for safety reasons.
What can you do to help? Participate online – and let us know if you need help getting online. Making our online worship services, gatherings, and classes vibrant with your participation is an amazing way to help the church. Being present to each other is powerfully important, and helps us keep the church strong, too.
This is timely: we are entering a third phase of isolation, which can be lonely and even harder than the first two phases. The first phase "flurry of adaptation" is past, when we rushed to gather supplies and make plans. The second phase is the so-called "sourdough starter phase"[1] when novelty buoyed us along and working in pajamas seemed fun. The third phase of isolation reality is setting in, and this is a time to be very careful with your emotional well-being. Treat yourself with great kindness, "be your own best friend" and tend your moods gently, protecting them with love and connection.
Need a First Church Buddy? Contact us at care@firstchurchLB.org.
Keep the faith, keep safe, and – especially as this stretches on – keep in touch.
Sending love and prayers,
Elena Larssen
---
[1] 
"We have begun the dreaded third quarter of isolation, when – yes – things get weird," by James Purtill on 
triple J Hack
.
May 6, 2020
During this time of Stay-at-Home, many of our church groups are still meeting online: kids have been meeting with Mary Traylor and their advisors, the Sanctuary Choir has been socializing on Thursday evenings, and boards and committees have largely been meeting to stay connected and move forward on the projects that are possible. Our elected and volunteer lay leadership deserve great thanks and appreciation for keeping the life of the church lively! If you can, make sure to send them notes of thanks and encouragement. Truly, we are in this together.
Three times now for online gatherings and meetings, I've used an end-of-gathering benediction that I'd like to share with you here. St. Teresa of Avila (1515-1582) was a key figure in the Catholic Reformation from the Castilian region north of Madrid. She wrote extensively and her mystic works are considered the finest of their genre, possibly inspiring thinkers like Descartes. She wrote about her life and faith so excellently that it provides an account of that time period and her life far beyond what is typically available in historic records. Her life's work was to reform both female and male Carmelite Orders, and she was recognized forty short years after her death as a saint.
In my Protestant theological education, the Spanish saint was lifted up as a feminist icon who wrote with other-worldly beauty and a fearlessness about the sensuality of faith, a topic so few will dare to touch. Here is the prayer, edited in a collection by Caroline Kennedy. May it be a blessing to you today:
May you trust God that you are exactly where you are meant to be.
May you not forget the infinite possibility that are born of faith.
May you use those gifts that you have received, and pass on that love that has been given to you…
May you be content knowing you are a child of God…
Let this presence settle into your bones, and allow your soul the freedom to sing, dance, praise and love.
It is there for each and every one of us. [i]
Sending love and prayers,
The Rev. Elena Larssen
April 29, 2020
Dear First Church friends,
I hope this finds you well and sheltering with peace.
This Sunday will be a communion Sunday and is often called "Good Shepherd Sunday" because the 23rd Psalm is part of the lectionary, alongside the wildly hopeful story of the early post-Easter church in the Book of Acts. We all have questions about "how do we get through this valley of shadow" and "how will we re-gather," but those questions can be asked any time, not only in times of mass crisis. Those are questions that keep our spirits vital. "How do we get through" and "how do we come together" are life questions that we can ask to nurture the inner vitality of who we are and how we live.
For those who would like to know more about regathering I advise two things: one, stay skeptical and patient. No one thinks this stay-at-home will turn on a dime. Two, read what the Wisconsin Council of Churches under the direction of UCC minister Kerri Parker has published: "Returning to Church." It's the best published guideline yet in the church world, full of common sense and useful alongside secular guidance.
It is, of course, lambing season. If you want an adorable, playful reminder of what a good shepherd shepherds, please visit our dear friends at University Congregational UCC in Seattle for LambWatch2020.
In the meantime, know that you are loved and being prayed for by our church.
Peace and prayers,
Elena Larssen
April 22, 2020
When We Reopen Versus How We Regather
For our congregation and many community-based organizations, the question of when we can reopen is on everyone's minds. While no reopening date is realistically available to us, what the church's leadership is already doing is thinking about how we regather.
I wrote this "poem-as-planning" to share the vision for our regathering process. In the meantime, First Church is committed to offering (1) the best worship we can under the circumstances, (2) regular and transparent communication, and (3) frequent opportunities for all-ages community, spiritual support, and justice.
Reopen/Regather
We reopen when the city, state, and county say we may. Listening to you, Gov. Newsom.We reopen when our denominational leadership advise it. Listening to you, Dr. Villanueva of the United Church of Christ.
We reopen when our professional advisors recommend it. Listening to you, insurance company.
We reopen when our peer-organizations are opening again. Listening to you, Bayshore UCC and Temple Israel.
We reopen when the staff is secure that they can hold safe events. Listening to you, church staff and UCO staff and DAYS staff.
We reopen when we have access to enough supplies to sanitize after events. Listening to you, Maintenance Department.
We reopen when our appointed leaders have convened and made a judgement call. Listening to you, Emergency Response Team and Executive Committee of Church Council.
The question is not when. The question is how.
We regather modestly. When we are allowed to start regathering, it will likely be very small groups only.
We regather gradually, keeping online worship alive as a new part of our church life. Picture the ministers and choir leading a service when the congregation is still at home.
We regather with a segmented schedule. Like other countries, younger people may be allowed in public first. Picture the kids' programs being able to gather, while we keep adult programs online.
We regather and keep some things online. Some groups are finding that evening meetings are quicker and more inclusive online.
We regather without some of our favorites on the calendar. Sadly, some events will be postponed much longer than others.
We regather with a spirit of humility. Every program and group will have reduced capacity and goals, so we will put the wellness of the whole before the success of any one group or goal.
We regather with a spirit of service. Some people are suffering greatly while some are in relative comfort during the shut-down, meaning that regathering will reveal heightened disparities. We will respect each other's needs with love and non-judgement in thought, word, and deed.
We regather with faith. It is faith that allows us to seek wisdom in suffering, find new skills during times of duress, and remember that we love each other for better and for worse.
This is the meaning of church. Our hearts and minds are open to the ways and the days when we will regather.
Shifting our perspective from "when can we reopen" to "how shall we regather" activates our creativity and brings us to greater wisdom. Shifting our perspective is a way to shape a vision that will give us hope and help us endure. While endurance may not feel joyful, it is a path to wisdom. From the book of James: My brothers and sisters, think of the various tests you encounter as occasions for joy. After all, you know that the testing of your faith produces endurance. Let this endurance complete its work so that you may be fully mature, complete, and lacking in nothing.
Sending peace and prayers,
The Rev. Elena Larssen
April 15, 2020
Dear First Church friends,
Wow, what a beautiful Easter!
Thank you to everyone for being a part of something historic and special. At this writing, 645 viewers or devices (meaning at least one person and perhaps a whole household logged in on one screen) have been a part of our Easter Celebration this year. We are profoundly blessed that the Stay-at-Home order has not broken us but is instead drawing us together despite miles and obstacles.
Technology is helping us reach out to one another and to new friends. But there is an important question: who is being excluded by tech barriers? Thankfully, our Board of Christian Education is taking up the justice issue of tech access and looking for ways to support increased tech access by our community. To help or receive support, email Mary Traylor at mtraylor@firstchurchLB.org. As with much of our ministry at this time, we are figuring it out as we go.
But, as old saying goes: to go fast, go alone. To go far, go together.
Together, we are going far and discovering new ways to empower our community.
Sending love and prayers,
Elena Larssen
April 8, 2020
Dear First Church friends,
As Easter approaches, we need your help bringing flowers to Easter Sunday Service!
As you are able, email pictures of your favorite neighborhood flowers – your own pictures, please, or those of your friends – to AdreanaLangston at calalum dot org. We will use them to "decorate" our Easter service.
Another easy way to share and stay connected is Facebook. Join our group and add your flower photos to the "Easter Flower Photo Call" post.
All are welcome: bushes, trees, and other nature shots are invited, too.
During this unusual Holy Week, we can celebrate the impending rebirth of Easter by rejoicing in the beauty of our planet where we are all at home together.
Sending peace and prayers,
Elena Larssen
April 1, 2020
Dear First Church friends,
John Lennon famously said, "Life is what happens when you're busy making other plans."
It seems like every day is a kaleidoscope of no-plans or too-many plans, but the big picture is changed plans. Even within a day, the circumstances and needs of our church change and evolve, just as they do for individuals in this time. Adaptation takes energy, and it is normal to wish for stability.
If you find yourself struggling for some calm, please be kind with yourself. This strange time is a threat to spiritual health, and knowing that, we are providing times for gathering and connecting, listed here in The Pilgrim.
Looking ahead to Sunday, this Sunday is Palm Sunday, and we are celebrating from a distance with videos! Please send in a video of yourself waving your palms…now, those could be palm fronds, as is traditional. Or they could be your hands, waving. Either way, we thank Sarah Shimanek in advance for helping create an online Palm Processional for this year's Palm Sunday. Please email your video clips to slshimanek at mac.com. Deadline is noon on Saturday for inclusion in the Sunday service.
While the circumstances of the pandemic make challenge the plans we've made, the shake-up of our lives also reveals the enduring promises of faith:
we are never alone in the challenge of being human,
we can support one another even in unexpected ways,
creativity is an act of faith that heals.
Sending you love and prayers,
Elena Larssen
March 25, 2020
Dear First Church Friends,
I hope this finds you well, sheltering in place, and comforted in body and spirit!
The rapid pace of current events is sobering. But in all things we, as a church, are committed to sheltering at our spiritual address on the Corner of Justice and Arts. We know that, throughout history, people have been displaced and disoriented by their times. Yet faith is a moveable feast, and trust is the surprising gift of "enter(ing) fully into the pains and joys of life."
That phrase was written by the Rev. Dr. Ted Jennings, who was Professor of Biblical and Constructive Theology at Chicago Theological Seminary, whose recent passing from a stroke is news to our wider church this week (not virus related). He wrote the charge to the 2012 CTS Graduating Class, saying:
"And so, my friends, I charge you now to bear witness, in word and deed and in your very form of life:
Do not be conformed to the world that is perishing
but bear witness to the audacious promise that awakens hope for what the world knows is impossible:
water into wine, death into life, the coming of a justice rooted and nourished in love,
the arrival of the kin-dom of generosity and joy, and to the glad tidings that all creation is invited to the banquet.
Remember that the messiah summons us not into a new religion, but toward a new heaven and earth;
be agents therefore not of a mechanical legality but of bold improvisation, joining together the earthiness
 of the blues with the hope of the Gospel, so that all may join in the melodies of the beloved community.
Enter fully into the pains and joys of life: Do not flee suffering, neither your own nor that of your neighbor.
For even in the deep heart of sorrow we are not alone. Neither should you be reserved or inhibited in joy
and delight, for it is in joy that God's new creation is anticipated.
Your journey of faithfulness will be marked by times of danger, of temptation, of loneliness;
May you find courage in all peril, steadfastness in all trial, and noble companions for the journey.
And in all things may you be empowered and refreshed by the Divine Spirit
so that in all your ways you may be
found by grace,
infused by peace,
encountered by love,
lured by hope,
and astonished by joy.
Amen."
May these blessings be true for you today, dear First Church.
Keep the faith, wash your hands, keep in touch,
Elena Larssen
March 18, 2020
Dear First Church friends,
I hope this finds you well and able to shelter in place. Since Sunday, my family and I have been mostly at home in the manse, and my stress-relief baking is finally starting to abate. This is good, because we were drowning in sugar and starch.
At 241 Cedar, we are slowly and steadily deciding what our temporary normal will be:
Sunday Online Worship at 10 a.m.

The streaming starts early so you can adjust your personal tech.
The video is then available online for watching at your pace. This is a popular option; we had 122 devices tuned in during the initial webcast, but as of right now, the service has been viewed 702 times. As many as 18% of those are brand new to First Church! What a blessing, to be able to reach out even in distressing times.
Youth and Children Online Fun and Learning with Ms. Mary Traylor – look below at Mary's Message for details!

Church Campus is staffed Sunday through Friday from 9 am – 12 noon by the Maintenance Department, and the temporary online worship team will be here Sundays.
While we are reflecting on this new, temporary, normal, I must give heartfelt thanks to the Emergency Response Team. They have been texting with me for days now, shaping our plans and helping us find community-based solutions to this unprecedented situation.
Sending love and prayers,
Elena Larssen
P.S. If you are able to make a gift to help the church during this challenging time, please click here to go to our secure online donation page.
March 11, 2020
Dear Friends,
I hope this finds you well, calm, and with washed hands!
Our hands are so important to us: they symbolize our interaction with the world, even our sense of power and selfhood. It may be distressing to think of them as unclean or carrying germs.
Remember that the ancient people of our scriptures thought of "cleanness" and "uncleaness" as normal phases of everyday life. "Being clean" was a ritual state that was mediated by faithful actions. Being unclean was not a life sentence; it was a normal phase of life that could be handled with rituals like bathing, prayer, and periods of isolation and reunification with the community.
Even if you are feeling ill or gripped with concern, remember that there are simple rituals that protect us all. Handwashing, prayer, skipping an event to rest and stay home, checking in on vulnerable people: these are all rituals that contribute to a well community.
Chris Davies is a national staffer for the United Church of Christ and wrote this lovely poem of advice for times of sickness:
Advice for Every Day, and This Day Especially
Care for the community is more important than programs.
Listen to the disability activists. Structures that care for the most vulnerable will inherently care for everyone.
Wash your hands.
Connect to your own spiritual practices, whatever they are.
Text people and check in on them.
Meet your neighbors. Know who might need checking in on.
Make a plan.
Wash your hands again. Sing your favorite song to yourself.
Breathe. 
Perfect the air kiss greeting. 
Know that amplification is also real—there are many things at play, one is health, the other is how our systems can handle or respond to them.
Use technology. Schedule times to talk.
Disinfect your keyboard.
Develop a clear definition of what urgency is, for you, in your community. 
Don't panic. Breathe and check in. And check in on your people.
What else?
— The Rev. Dr. Chris Davies, Team Leader for Faith Education, Innovation, and Formation
My prayers and love are sent to you all, and let us know if are feeling unwell or need a call.
The Rev. Elena Larssen
elarssen@firstchurchlb.org
March 8, 2020
Dear First Church community,
What does it mean to be a church?
Yes, we have a building, but we are not a building.
Yes, we are a people, but we are more than just a collection of individuals.
Yes, we have a tradition, we are more than what has come before us.
Yes, we have a mission, but it's not to tell others how to think.
Being a church means coming together to learn, love, and serve. It means making change in a changing world. It means listening to the ancient teachings of Jesus and tuning in to hear the voice of hope in today's world. Church means connections that bring us wisdom and peace.
Our times are trying, and concern about elections and viruses are making tempers short in the media and even in our real lives. During anxious times, could we focus our vision on what is knowable and dismiss the flurry of speculation and gossip?
Together, we can. Together, we will keep up to date about the facts of the matters that worry our minds. And together, we will find wisdom for the peace of our hearts, staying connected with one another and our merciful God. This is our Lenten journey: 2020 Vision: Listening for Wisdom.
Keep calm, wash your hands, know you are loved,
Rev. Elena Larssen
February 9
Dear First Church,
This Sunday will be our Annual Celebration of Ministries and Meeting Luncheon!
All are welcome to stay after service for a salad luncheon in Ramsay Dining Hall with special music by our Music Department, reports and updates from the life of the church, and the presentation of the Ralph Pillsbury Award for special service to the church outside of the spotlight.
The lunch menu includes Greek salad (meat-free) and Greek salad with chicken gyro, rice, pita, and hummus from George's Greek Deli. There will be a free will offering, and all are invited to dine regardless of whether they make a financial contribution. All ages welcome.
The Annual Report will be available in a limited number of hard copies, with an electronic copy posted in the Member's Section of our website. Any member who would like one mailed to them in hard or soft copy should contact the Church Office.
Peace and blessings,
Elena Larssen
February 2
Dear First Church,
Our winter series, Coming to Peace, is off and running!
All adults are welcome to come at 9 a.m. for Adult Education in Booth Chapel. This Sunday we will discuss the hit film Knives Out. This Agatha Christie-style murder mystery is pure entertainment. Featuring a powerful cast of actors, the mystery unravels the dynamics of a family in full-blown dysfunction whose patriarch dies unexpectedly, leaving a fortune to the wrong person, and hilarity ensues. Using Bowen Family Systems theory and the genogram, with our scriptures in hand in multiple translations, we will attempt to diagram their convoluted relationships and see where peace could have prevailed instead of witty chaos.
In our service, we will focus on two of the most treasured Hebrew scriptures, Micah 6:8 and Psalm 23, both of which are recipes for peacemaking. Our children will be studying and experiencing Micah 6:8 as their Sunday School theme of the month as well. As is our custom, communion will be served, and all are welcome to the open table.
Peace,
The Rev. Elena Larssen
January 26
Dear Church,
Winter is a wonderful time to reflect. The shorter days and after-holiday hush give us time to consider where we need to grow and what gifts we may have to share with the wider community. It is also one of my favorite seasons: Award Season, when the creative industry crowns its annual achievers in film, television, music, and more. Maybe in SoCal it's not winter as much as it's award season…!
Starting this Sunday, the 9 a.m. Adult Education class will focus on the intersection of faith and film. We are examining the structure of families in four current award nominees and seeing how the patterns of family interaction either support or undermine the experience of peace. Then, in worship, we will be reading scriptures from the lectionary with an eye toward their peace-making lessons. All are welcome; spoilers will be discussed.
Peace,
The Rev. Elena Larssen
January 19
Dear First Church,
This Sunday marks a celebration of the life and ministry of Dr. Martin Luther King, Jr.
With thanks to our Worship and Arts Team, we will have a dramatic reading of what was perhaps Dr. King's most controversial speech. "Beyond Vietnam" was preached at the famously progressive Riverside Church (United Church of Christ, like FCCLB, and American Baptist in its affiliations) in New York City on April 4, 1967. While his words contained detailed policy recommendations on the then-current Vietnam War, our reader's theatre version will focus on the passages which are both alarmingly and comfortingly relevant to today's struggles for peace and climate action.
       Moss Umezaki                        Martha Duncan
      Tina Datsko                            Adreana Langston
I look forward to seeing you all for this special observation. I am almost to the end of a two-week intensive on research methodologies at my seminary, the Pacific School of Religion in Berkeley, CA. This is the initial exposure to a Doctor of Ministry program; this kind of advanced praxis program is designed for full-time working professionals who are actively engaged in a ministry setting and who have continuing education requirements to satisfy for their authorization for ministry. While I am still discerning whether this is the right on-going educational program for me, it is a blessing to simply have time in the theological library and in rigorous conversation with other scholar-practitioners. This morning I will lead our opening devotionals by teaching Paul Boyd-Batstone's ukulele chorus "The Blessings of God upon You!"
And may those blessings be with us all: campers at Pilgrim Pines, marchers in the MLK parade and Women's March, those who celebrate and serve at 241 Cedar this Sunday, as we seek to keep the flame of Dr. King's vision of justice alive in our times.
Peace,
The Rev. Elena Larssen
January 12
Dear Friends,
Thank you to those who are reaching out on Facebook to connect with each other in the face of many global concerns. Connection is a key to our well-being, and remember Mary Pipher's words: action is the antidote to despair. I encourage you to take the next step and meet with friends and family in real life, to talk and even perhaps to share words of prayerful support. I am finding the following blessing deeply meaningful, and find myself reading it again and again. I share it with you now:
Written and prayed by Episcopal priest the Very Rev. Brian Baker as his "gift" at Burning Man 2015
The world now is too dangerous
And too beautiful
For anything but love.
Love is a blessing.
So may your eyes be so blessed that you see God in everyone
Your lips  – so you speak nothing but the truth
Your ears – so that you hear the cry of the poor
May your hands be so blessed that everything you touch becomes a sacrament
Your feet – so that you run to those who need you
And may your heart be so opened
So set on fire
That your love
Your love
Changes everything.
Amen.
Peace,
The Rev. Elena Larssen