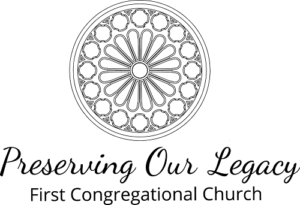 The Preserving Our Legacy Capital Campaign intends to raise $900,000 over three years, 2017-2019. Those funds will pay for repairs to the exterior of our landmark historic building: restoring three rose windows and fixing and stabilizing our brickwork and terra cotta. These preservation efforts will assure the beauty and utility of this iconic building well into its second century of service to our congregation and to the Long Beach community.
A Navy Memorial Heritage Association Grant of $50,000 has been invaluable in getting us started on this important venture, but its success rests on the shoulders of generous members and friends of First Congregational Church, Long Beach. We welcome every gift.
For more information on the campaign and the tasks ahead, click on the appropriate links or call 562-436-2256. Should you want to contribute, click the "Donate" button below to go to our online giving page.
Letter from the Rev. Elena Larssen, Senior Minister
History of First Congregational Church