Sanctuary Choir
The Sanctuary Choir, directed by Curtis Heard, is open to all adults who wish to sing. The choir enhances the service of celebration each Sunday from September (after Labor Day) through the end of July, as well as Christmas Eve and other special events throughout the year. The anthems represent numerous styles and genres, including classical, contemporary, spirituals, world music and even Broadway and pop. The choir also performs major works with instrumental ensembles, such as Handel's "Messiah," Britten's "Ceremony of Carols," and Fauré's "Requiem." Most of the repertoire is sung in English, but the choir has also sung in Latin, Hebrew, French, German and Spanish.
Rehearsals for the Sanctuary Choir are on Thursday evenings from 7:30 p.m. to 9:00 p.m. and on Sunday mornings at 9:30 a.m. prior to our service of celebration. For more information contact Curtis Heard (candlheard@adelphia.net).
Una Voce Chant Choir
Una Voce is our chant choir, and is welcoming of anyone who thinks they might like to try singing chant. The choir rehearses on Sundays, 8:30 – 9:30 a.m. in the Pownall Room. Una Voce sings on the first Sunday of each month.
Chanting is good for: the voice (it helps open upper registers); the breath (those long phrases); the mind (singing in Latin, phrasing in "speech rhythm"); the soul (they say that those who sing, pray twice, AND we are singing sacred texts some of which have been continuously chanted since the time of Solomon's temple); and the heart (laughter is good for the heart, and this is a fun group).
For more information contact Karen Miller at 562-431-0578 or via email at ggkaren@aol.com.
Bellissimo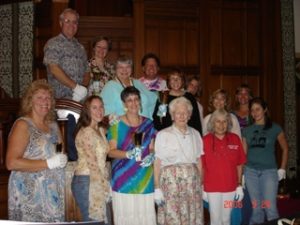 Bellissimo is our Adult Handbell Choir led by Tracy Halter-Balin. Ages have ranged in the past from 18 to 93 years of age! The ability to read music is a plus but not required – just a willingness to learn and have fun doing so. There is usually a lot of laughter during our time together, but we work hard at learning a challenging repertoire that aims to enhance our morning worship services throughout the year as well as our lovely Candlelight Christmas Eve service. Bellissimo rehearses on Thursday evenings from 6:45 to 7:30 pm in the Youth Music Room.
All Seasons Choir
All Seasons Choir is a voice choir for children ages 4–12 years (ages are very flexible). Rehearsals are on Sunday mornings from 9 to 9:25 am in the Choir Room, and parents are welcome to stay with us or enjoy the morning church activities. The children perform regularly for the morning worship services as well as for the early Christmas Eve service with the children's pageant. After our rehearsals, the children either go to Charming Chimes or to Kids Club. Directed by Tracy Halter.
Beloved Bells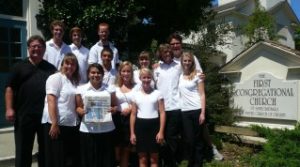 Beloved Bells is our youth bell choir geared for grades 6–12. Rehearsals are on Sundays at 11:30 am in the Youth Music Room. Musical experience is a plus due to the nature of handbell ringing. They perform regularly for our morning worship services and holiday services as well as several times a year for other events. Christmas is a busy time for the ringers! We have performed at our neighboring Plymouth West and at Shoreline Village, spreading musical holiday cheer for all ages. The group has gone on several performing tours throughout California and as far away as Connecticut and Hawaii. This group is directed by Tracy Halter-Balin.
Charming Chimes
Charming Chimes is a chime choir of first-graders (who are able to read a little bit) to fifth-graders and sometimes older. We focus on the introduction to basic music theory, including note recognition and early rhythm exercises. It is a preparatory group for those kids who may be interested in joining Beloved Bells when they are old enough. Director Matt Balin brings a lot of fun to this group
Concerts and Arts Events
Check back soon for upcoming events.