Sanctuary Choir
The Sanctuary Choir, directed by Curtis Heard, is open to all adults who wish to sing. The choir enhances the service of celebration each Sunday from September (starting with Homecoming Sunday) through the end of July, as well as Christmas Eve and other special events throughout the year. The anthems represent numerous styles and genres, including classical, contemporary, spirituals, world music and even Broadway and pop. The choir also performs major works with instrumental ensembles, such as Handel's "Messiah," Britten's "Ceremony of Carols," and Fauré's "Requiem." Most of the repertoire is sung in English, but the choir has also sung in Latin, Hebrew, French, German and Spanish.
Rehearsals for the Sanctuary Choir are on Thursday evenings from 7:30 p.m. to 9 p.m. and on Sunday mornings at 9:30 a.m. prior to our service of celebration. For more information contact Curtis Heard (cheard@firstchurchlb.org).
Jubellance
Jubellance is the perfect music experience for people interested in learning the art of handbell ringing. A bit of coordination skills is a plus, as is the ability to read music, but not required – just a willingness to learn and have fun. It's open to all ages, and consistent attendance is helpful. This group performs for Sunday morning worship services and special events. We rehearse 5:30 – 6:30 pm on Thursdays, September – June, downstairs in the Youth Music Room.
Bellissimo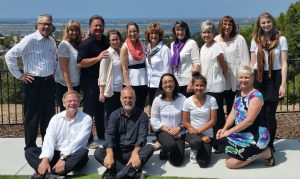 Bellissimo is the more advanced handbell choir led by Tracy Halter-Balin. Ages have ranged in the past from 18 to 93 years of age! This group has been ringing together since 2005. It's helpful to have some ringing experience and the ability to read music. There is usually a lot of laughter during our time together, but we work hard at learning a challenging repertoire that aims to enhance our morning worship services throughout the year as well as other special services such as Maundy Thursday and the Christmas Eve service. We have traveled to San Diego in the past to perform and are always looking for opportunities to share our musical gifts with others. Bellissimo rehearses 6:30 to 7:30 pm on Thursdays, September – June, in the Youth Music Room. Due to the nature of this instrument and group, regular attendance at rehearsals is highly encouraged.
All Seasons Choir
All Seasons Choir is a voice choir for children ages 4–12 years (ages are very flexible). Rehearsals are on Sunday mornings at 9 am in the Choir Room, and parents are welcome to stay with us or enjoy the morning church activities. The children perform regularly for the morning worship services as well as for the early Christmas Eve service with the children's pageant. Directed by Tracy Halter-Balin.
Beloved Bells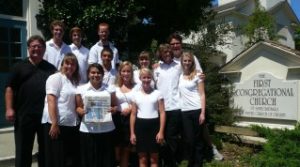 Beloved Bells is the youth bell choir for those in middle and high school. This group has been around since 1992 and has seen many talented youth go through the program who now ring with the adult groups! We've traveled to places such as Hartford, Connecticut for the UCC General Synod in 2007 and participated in a large handbell convention in Hawaii in 2004. Some musical experience is helpful but not required. We have a great time learning about handbell ringing and techniques. This group performs for Sunday morning worship services and outside events. Rehearsals are Sundays after church 11:15 – 12:15 in the Youth Music Room, September – June. Regular attendance is highly encouraged.
Charming Chimes
Charming Chimes is our youngest bell group and has been around since 2003. It is directed by Matt Balin, and rehearsals are at 9:30 am on Sunday mornings in the Youth Music Room. It's geared for elementary age children, and the ability to read is a plus but not required. The goals of this group are to learn basic music skills, to be a part of a musical group, to perform when ready for our morning worship and, most of all, to have fun together. It is a preparatory group for those kids who may be interested in playing in Beloved Bells.