We celebrate the right of all to marry!
At First Congregational Church of Long Beach, we affirm equal marriage rights for all couples regardless of gender. All couples are welcome into our beautiful, historic Sanctuary as a setting for ceremonies both large and small. Couples desiring a smaller space may be interested in having their wedding in Sacred Space, where up to forty guests can be accommodated. Intimate Weddings are also available on weekdays only.
Sanctuary Weddings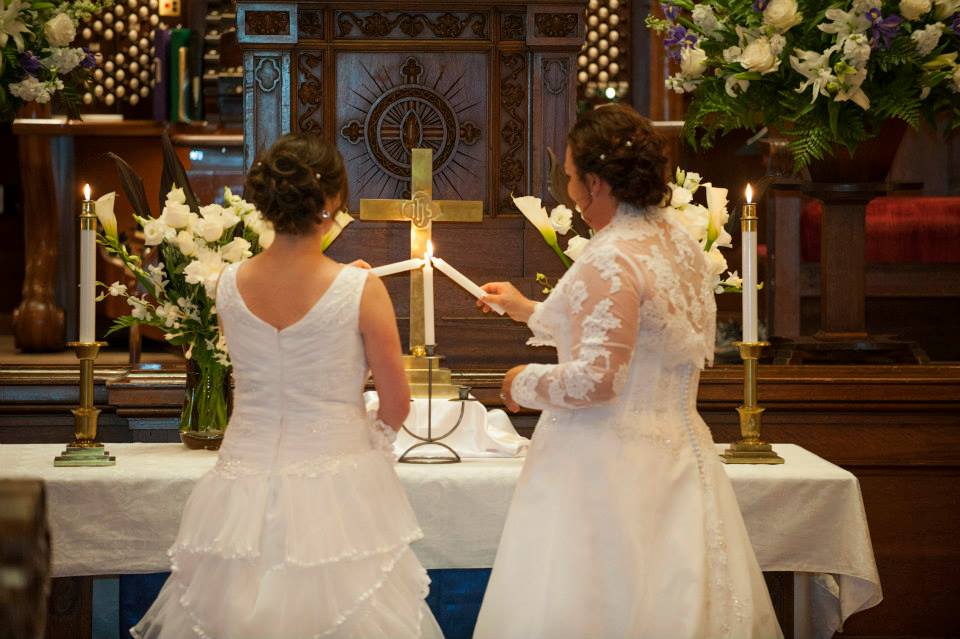 One of the finest local examples of architecture in the style of the Florentine Renaissance, the First Congregational Church of Long Beach's building was dedicated in 1914 and declared an historic landmark in 1979. From the many lavish stained glass windows – each with a history of its own – to the breathtaking processional music announced from the 68-rank Möller pipe organ, your ceremony will be distinguished with exquisite beauty and tradition.
Our wedding coordinator will conduct your rehearsal and assist you with all the details at the church. We provide two comfortably appointed changing rooms and many lovely spots for memorable photographs.
The sanctuary wedding package includes:
Minister – consultation and ceremony
Organist
Wedding Site Coordinator
One Hour Rehearsal
Two Candelabra
Unity Candle
Sound System
Sacred Space Weddings
Located in our new building, Sacred Space is a contemporary chapel. Light and airy, this open space can seat up to forty people. A rehearsal and the services of a wedding coordinator are generally not required for weddings in Sacred Space, but can be arranged if you would prefer it. You can arrange for your own music, using a CD player or having musicians bring their instruments.
The Sacred Space wedding package includes:
Minister – consultation and ceremony
Unity Candle
Intimate Weddings
Some couples will want to take advantage of our Intimate Wedding service, which is available weekdays between 9 a.m. and 5 p.m. This brief ceremony does not include music or any additional services. No more than three or four guests can be present for Intimate Wedding ceremonies. These can be held in either the Sanctuary or in Sacred Space. These ceremonies must be pre-booked and do not include consultation with the minister.
Receptions
Receptions can be held on-site in Patterson Hall or Kilsby Courtyard for an additional fee, which is based on the length of the event and the set-up time required. You are free to hire a catering company of your choice.
Please contact the church office if you have any questions and to further discuss your wedding plans.