Our Ministry Partners
DAYS Long Beach
DAYS Long Beach has served low-income, under-served families in Long Beach, California, for 50 years. In 1970 Dorothy Baker started a summer day camp program at First Congregational Church for low-income children. The former church ministry is now  an independent nonprofit 501(c)(3) which continues to serve children in the neighorhood and their families.
DAYS Long Beach supports achievement by providing children and families with opportunities to develop skills, apply concepts they have learned, and build positive relationships.
DAYS Long Beach provides services in three key areas: Youth Education and Support; Leadership and Academic Success; and Parent and Family Support.  Through a holistic approach to helping youth and families of Long Beach, DAYS Long Beach provides the needed support to build future success for our members of our community.
Urban Community Outreach

On the Sunday after Christmas 2006, First Church member Janet Rhodes, with support from the Rev. Jerry Stinson (now Senior Minister Emeritus) and other members of FCCLB, opened the church campus to those experiencing homelessness and offered cold cereal, sandwiches and a safe place off the streets where guests could relax, socialize and use the computer lab.   These simple acts of kindness were the genesis for Urban Community Outreach's drop-in center, and in 2008 UCO officially incorporated as an independent nonprofit 501(c)(3) organization.
A nurse and her team of volunteer nurses provide monthly wellness screenings. A doctor and her team of college students make monthly visits to the center and provide private consultations to drop-in center guests. Case managers help clients apply for government ID cards and provide referrals and funds for shelter/housing and other services. The drop-in center has an operations manager, a chef, and an army of volunteers to prepare hot meals using primarily rescued food for 130 to 250 guests every Sunday afternoon (except in July).  In 2019, the center provided over 17,000 meals.
Organizations Housed at First Church
Un Mundo de Amigos Preschool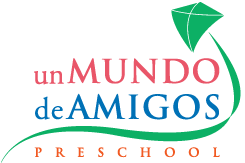 Owned and operated by EDUCATE, a 501c3, Un Mundo de Amigos Preschool offers free and fee-for-service preschool education living in the City of Long Beach. Their mission is to develop active thinkers in a safe, loving, dual- language, and balanced learning environment that inspires children of diverse backgrounds to fulfill their unlimited potential, while changing the shape and availability of preschool for children living in Long Beach, through a focused pre-k program and partnerships with parents and community members.