Open & Affirming Statement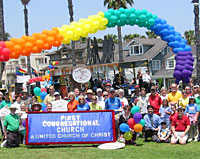 "Open and Affirming" means that a church has publicly declared that gay, lesbian, bisexual and transgender people (or those of all sexual orientations) are welcome in its full life and ministry. It bespeaks a spirit of hospitality and a willingness to live out that welcome in meaningful ways. Following the lead of our denomination, the United Church of Christ, and our conference, the Southern California Nevada Conference of the UCC, the membership of First Congregational Church adopted the following statement on January, 26, 1992:
Be it resolved that the First Congregational Church of Long Beach, United Church of Christ, declares itself to be an Open and Affirming Church , welcoming into its membership, employment and leadership, persons of gay, lesbian and bisexual orientation.
In 2002, the statement was amended to include transgender persons.