April 7
Dear First Church Friends,
This will be my last Pilgrim letter to you all, as we prepare for my final Sunday. I am filled with gratitude for all we have done together since 2013. In a time when organized religion is less organized than in any of our lifetimes, the relevance of our worship and service is something important to support and uphold. It has been my honor to be a part of the long arc of First Church's ministry and theological life.
This weekend will be about celebrations, so this letter is where I will remember that there have been serious obstacles along the way. We must never forget what we have endured: we weathered Rev. Douglas's successful battle with cancer and three medical leaves…the disintegration of the East Façade and resulting multi-year, multi-million-dollar restoration project…the loss of what was at that time our primary parking lot, which typically is a death knell for urban congregations…we have endured the pandemic, participated in the uprising, and spoken against gun violence and for immigrant children…we have become a church with a significant online ministry, rebuilt our staff structure, and grappled with the unsettling dynamic of possessing significant investment prosperity while so much poverty lies at our doorstep. We have seen the finest of generosity and kindness among our members; we have seen bullying and factionalizing among our members. We have grown in the ways I dreamed, with more programming that touches public life…and we have faithfully dealt with the challenges no one ever predicted.
There are times that we shape the world, and times when the world shapes us. To be a leader of my age is to be a "sandwich generation" leader. Personally, I am neither a part of the large and prosperous Baby Boomer generation, nor am I statistically one of the many vibrant Millennials who are moving into volunteer leadership and staff positions at FCCLB. Looking at the long lines of history, Gen Xers tend to be in charge in times of flux and change, when "what always worked before" falters and scrappy new solutions must be investigated, tested, and absorbed into the community's playbook. This is not always fun, popular, or obviously "successful" compared with glory days in the institutional memory. Instead, I have found it meaningful to remember that each of us builds one brick, adds one chapter, and that when we go slow together, we do go far.
Together, we have created a chapter in the history of the church that did not break with tradition but was characterized with pivots within our culture and values: pivoting toward increased building use to support our extraordinary building costs; a pivot toward intersectional, multiorganizational, and anti-racist thinking about our whole community at 241 Cedar; a pivot toward intentional leadership development and focus on the ethics of our community life; a pivot toward preservation and reclaiming of our role as the gracious Tower of Faith in the Heart of the City. When I started at First Church, City Hall would not take a phone call from our church…now YOU are once again an essential voice in the evolution of downtown. Because First Church already was the Church on the Corner of Justice and Arts when I gave you that name in 2013. We have been true to our traditions in conversation with the challenges and promise of today.
As I say farewell and begin my national setting appointment as Minister for Volunteer Engagement on the Global HOPE Team, know that I am delighted by my new role with First Church: your #1 Fan. I will be unobtrusive in church life and ministry but praying for you and your wonderful staff from afar. Know that it will be my secret delight to see the new dreams that you, First Church, will make into reality.
Sending love and blessings always,
The Rev. Elena Larssen
The 13th Installed Senior Minister of the First Congregational Church of Long Beach
March 17
Dear First Church friends,
What a wonderful weekend we had getting to know Tom Emanuel! We warmly welcomed him as our new associate minister, and thank him for starting right away.
His work began with us March 15, and he will work remotely until it is safe for us to relocate him to Long Beach.
We anticipate that he will relocate to help us with our reopening process, which is scheduled to occur for the first Sunday of July. Many things do not go according to schedule during the pandemic, so watch The Pilgrim for updates and information as the re-gathering is planned and rolled out.
Special thanks are due to the search committee chair, Randall Goddard, and his team: Moderator Chris Bobo, Kathryn Boyd-Batstone, Elizabeth Whitesell, Darryl Heath, as well as Vice Moderator Sara Schoenfelder. Appreciation to Steve Crow for his hospitality, and to the Parish Life board for their drive-by ice cream social.
Sending peace and prayers,
Elena Larssen
March 10
Dear friends,
As we get to know Tom Emanuel this week, I remember my own candidating weekend in April of 2013 when I was your prospective Senior Minister.
My partner and I were newlyweds, living 240 miles apart due to our ministry settings on opposite sides of the state of Minnesota. Early in the morning, my roommate pushed my Volkswagen Bug out of a snowbank to help me get to the airport in the dark. Mark was already on the plane, having departed from Fargo, and we landed at LAX, stunned by sunshine and the familiar sensation of the air at the coast.
The Search Committee took us to King's Fish House, and that night you filled Patterson Hall for a get-to-know you Q&A. There were lots of laughs, some soul-filling moments of heartfelt recognition that we matched…and I can still remember the faces and names of people I met that night. Doug Emslie sat in the front row. Mary Lou Klar spoke from the microphone in support. Bill Armstrong led us in prayer. Someone asked if I were the reincarnation of Mary Ellen Kilsby…which made us all laugh. No one could ever fill those striped stockings!
Every minister is a different bird. Every congregation is unique. We trust in the Spirit to guide us, but we are often unable to see what qualities make the match until the real challenges of ministry unfold over time. Who knew what obstacles we would face when you all called me to lead and serve? As it turns out, we have faced and survived obstacles that show not only the abundant creativity of First Church but its deep resilience. And we have done so together.
Thanks for the kind enthusiasm you are showing to Tom Emanuel. I am grateful that he appears to be as enthusiastic about us as we are about him! May God guide us… and connect us… and help us fall evermore in love with our futures.
Sending love and prayers,
Elena Larssen
March 3
Dear First Church,
As Lent progresses, I find that the simplicity of the season is irresistible. My family has downsized and simplified almost everything in the last few months as we prepare for our major transition into the "diplomatic service" of the denomination. And yet we find that enough is enough.
For many families enough is not available, however, and so I encourage you to continue your generous support of the UCO and DAYS grocery programs. Details of how you can donate or receive groceries are in this newsletter each week. If you are short on groceries, you do not need to be a regular client to participate, just email UCO director Ann Lampe at ucointerimdirector@gmail.com for more information or give me a call. Thank you for being a part of the community which cares and care alike.
Peace,
The Rev. Elena Larssen
February 24
Dear friends,
As exciting news comes from our Associate Minister Search Committee, I want to share preliminary reopening updates. The Diaconate and Safety leadership set March as the time to reconsider and update our program practices, so we know this work begins right around the corner.
Our budgeted goal includes a soft re-open of worship in July, with a fuller re-opening in October. But what about small events, ensembles, gatherings, and programs? What about outdoor worship for a baptism or vigil? What about off-campus events? Those are the options which may become viable earlier.
The phrase "same storm, different boat" will still apply as the vaccines are deployed. For example, people over 65 are getting vaccines right now, which is wonderful. School-age children are not scheduled for eligibility and show a 0% vaccination rate.[1] As has been the case so far, families will likely base their choices on the risk for the most-vulnerable member.
Here at the church, that means a staggered approach to activity may pervade 2021. We may have a large population of vaccinated church members long before we have a fully vaccinated staff, for example, as our staff is virtually all under retirement age. Programs will likely be segmented to accommodate the safety-diversity of the community – fortunately, this is already our program model at FCCLB, so we have solid program strategy in our collective bank of wisdom.
Currently, the congregation's activity is primarily online. Another important element of life at 241 Cedar, however, is that while the legal guidelines have generally not allowed for church gatherings in person, the work of UCO, DAYS, and Un Mundo Preschool have all carried 'essential ratings' since early in the pandemic. Our historic building has been relatively quiet since the conclusion of the (also essentially rated) Rose Window construction project. Pilgrim Hall and our courtyard and its amenities are in use seven days a week for that good work of preschool and food support to the neighborhood. Operating our "multi-organizational ministry environment" will surely be a key element to maintaining a safe environment into the future.
In this time of challenge, let us give and receive grace, patience, and kindness. As the proverb says: to go fast, go alone. To go far, go together. Let us work for a grace-filled re-opening that prioritizes safe, segmented action and allows us to gracefully regather in our church home.
Sending prayers for grace to fill your day and give you peace,
The Rev. Elena Larssen
February 10
Dear First Church friends,
This Sunday is our Mardi Gras-themed Sunday which we call Quinquagesima, a tradition brought to us by the Reverend Dr. MaryEllen Kilsby, Senior Minister in the 90s, of blessed memory to the congregation.
From the Latin quinquagesimus ("fiftieth," referring to fifty days until Easter), Quinquagesima is the last Sunday before the holy season of Lent. Lent is a time of self-correction and abstinence from our indulgences, so Quinquagesima (and Mardi Gras) is a day to indulge in love and celebration. Predominantly celebrated in the Lutheran heritage churches of Western Europe, practices include gifting and eating sweet baked goods. Several prominent composers have created cantatas for Quinquagesima, including Telemann and Bach.
Our theme this Sunday, especially because it coincides with the feast of Saint Valentine, is love love love is all you need!
We will be hearing special readings from the first novel in our Lenten series on the great American novel, Zora Neale Hurston's classic work Their Eyes Were Watching God. This novel contains a great romantic love story which contributes to the self-actualization of the main character rather than diminishing her selfhood. Throughout the season of Lent, our contemporary readings will be pulled from the pool of novels which contend for the questionable honorific of "great American novel." As a church, we should always question the notion of American-ness, what it means to be faithful and to hold citizenship, and especially what it means to be Christian in a time when Christian nationalism is co-opting the ancient stories of the western canon for their own political benefit. So we will faithfully examine some of the great American novels which simultaneously tell us who we are and make us question who we ought to become as a nation.
We look forward to a thought-provoking Lenten season together, and we start with love and celebration! Our music department has prepared beautiful pieces from the great American songbook, love ballads that you will be thrilled to hear sung by our familiar friends.
This Sunday, wear your beads or your feathers, prepare your favorite sweet treats for church time, and be thankful that love love love is all you need.
Sending prayers and love,
Elena Larssen
February 3
Dear First Church,
So much of what we do at First Church is this:
We work to make God's love visible.
We try to show it in our relationships here at church, always striving to be kinder and more truthful and more supportive to one another. This is a place where you can work on being your best self, with others.
We try to show it in our relationship to the Bible, celebrating the wisdom and beauty of scripture, studying its time and place and finding the deeper relevance for today's struggles and promises. We sing the gorgeous words of the Hebrew Bible and the church and its centuries of songwriters.
And we seek to embrace and create abundance through our deeds, our programs. First Church underwrites humanitarian work like DAYS and UCO, learns and advocates for systemic change, educates children. First Church even preserves our historic building, because we know the building is a not just beautiful, it's a hive…an engine for learning and social change.
This spring, we have the challenge of transition and planning to re-open in the latter part of 2021. As you know, I will be moving to my new position with the National Setting as Minister of Volunteers in mid-April, handing the baton to an intentional interim minster. This person will be – purposefully – a temporary pastor trained in the art of transitions, who will guide the congregation toward the calling of new senior pastoral leadership.
But this is the Covid era…and that person will also have the job of re-opening the church with all of you. Friends, the loving truth is that our congregation is blessed with strong personalities, and with strong personalities comes strong points of view, such that we are not always immediately on the same page about things. Given those realities, anticipate that this interim minister may not be your best friend for life…but pray that they will be a faithful servant of the church who is called by God to lead you and love you and guide the critical process of reopening of the church.
For that process will be an all-new challenge…and a familiar spiritual practice: making God's love visible.
Sending love and prayers,
Elena Larssen
January 27
Dear First Church,
There is a time and a purpose for everything under the sun, and the time has come for me to take my leave of First Church.
I have accepted a new position with the National Setting of the United Church of Christ, where I will serve as the Minister of Volunteerism and direct multiple national programs that engage people of all ages in hands-on humanitarian work.
I will be with you through Easter, with my last Sunday on April 11th and my last day of service on April 15th. I will begin my new work on May 1st, remotely until the pandemic conditions allow National Staffers to re-convene in the now-closed offices of the Church House in Cleveland. Someday, our family will relocate, and we hope to become first-time homeowners.
To be your minister during these turbulent years has provided me with opportunities to make contributions to church and society which I will always treasure. I am proud that we excelled in many areas of ministry, expanding our work both congregationally and increasing our impact in the public arena. But what has mattered most to me has been leading your worship, with your faces in the pews and your voices singing the hymns. Sunday morning is the heart of all we do: time when we are all together to lift our spirits to God.
Thank you for the ways you have loved and supported me and my family. Your love and faithfulness will not be forgotten, just as I hope my love for you and our faithfulness in ministry will endure as you move forward to new chapters in life and ministry.
Yours most truly,
The Rev. Elena Larssen
13th Senior Minister of the First Congregational Church of Long Beach
January 20
Dear First Church,
How do we do things?
The First Congregational Church is an independently operated congregation within the United Church Of Christ. Just like a person of the church holds a membership within a congregation, our congregation holds a membership within the Central Association of the Southern California Nevada Conference of the United Church of Christ.
Our church is governed by its members, who elect officers and board members that form a Church Council. The most important decisions in the life of the congregation are made by the whole congregation at Congregational Meetings, which are legal gatherings of the congregation as a legal entity. Monthly the Church Council gathers to make decisions about the life and ministry of the church, much of which is delegated to committees and boards. Additionally, during the pandemic, our church officers have met sometimes each week of the month to deal with the week-by-week pivots of the pandemic.
Our structure is egalitarian; all members have voice and vote. No joke, this can also be very cumbersome, with decisions getting bogged down between different parts of the congregation. Our polices and practices guide us to balance the involvement of many voices without losing effectiveness in our goals. It is one of our core values that we believe that welcoming all kinds of people into the process enriches the process and brings us to results which give glory to God.
But what happens when voices are in conflict with one another? First, we must not fear differing opinions. Differences of opinion are part of what make our church strong and lively. Secondly, conflict can be managed with open discussion and a shared commitment to the big picture. If in the process feelings are hurt or behaviors hurt one another, Church Council recently instituted a reconciliation process in our policy manual.
Now, that might not sound warm and fuzzy, but knowing that we have a way to approach one another to work out our differences and mend relationships is important in a church community. It can be hard to acknowledge that mending relationships is needed, but Jesus certainly taught that forgiveness and reconciliation were holy ways for a church-building community to build itself up.
As our nation sets a new course, the last four years have been filled with trauma and chaos. Even for those with comfortable lives, the stress has taken its toll. Even for an amazing church, there has been stress and duress. Experiencing pain and chaos and anger does not make us unworthy of love, however; we are always worthy of love, and the role of the church is to show that in human friendship.
As we move through this winter, through the season of Lent which is reflective and confessional, toward the joyous renewal of Easter, please know that our ministry is not just about Sunday morning, or the sermon, or hearing your favorite song. It is also about turning to one another in the "virtual pews" and sharing peace through phone calls, postcards, social media touch points…if reconciliation is needed, perhaps now is the time. It's never the wrong time to let people know you care.
Take the moment to check in on each other and remind one another that we love each other. How can you show love to one another this week?
Go in peace,
Elena Larssen
January 13
Dear First Church friends,
As we move toward Inauguration Day, we will proceed through the remembrance of Dr. King.
Some of our congregation met him personally; some are so young that stories of him are like tales of Susan B. Anthony.
If you have living memory of the Civil Rights movement, today is the day to call a young relative or friend, or write them a message, and to tell them how movements work… If you can, tell them that change is possible, moving slowly, never as completely as one can envision, but that the effort to make change is not wasted. Tell them that it works to speak peace, stand for justice, and to let solidarity bloom in your moral center, so that the concerns of all people are no longer alien and separate from one's own well-being.
Be honest: tell them it was hard, that there were failures and losses. Tell them how women of color were left behind again and again while they gave and gave. Tell them how to make it through times of upheaval and loss. Tell them how you, personally, made it through.
There are books and films and classes and troves of data on the Civil Rights movements of the 20th century. But your version is a gift. And when you have shared, ask to hear a story in return.
Sending blessings,
The Rev. Elena Larssen
January 6
Dear First Church friends,
What is your word?
For many churches, an Epiphany tradition is to randomly pull a star-shaped piece of paper from a basket, a star with one word printed on it. Your star word for the year.
The star word tradition is designed to provide a guiding light for reflection in the year to come. Just as the Magi brought gifts and wisdom, so too the star word is meant to provide a gift of insight.
But how do we pull stars out of a hat during Covid? Internet to the rescue:
Word of the Year Generator by Jen Fulwiler
And here is a fun one for kids:
Wheel of Names | Random name picker
Choose a word, and if it bothers you or provokes you, pay extra attention. There is wisdom found in both comfort and discomfort.
This Sunday we welcome Greyson Gates to our pulpit for the first time at FCCLB! Thank you, Greyson, in advance for your leadership and for providing the gift of time to me. I have been able to take an afternoon class online with Pacific School of Religion this week, truly a moment of renewal for me in the midst of pandemic life.
What was my 2020 star word? Renewal. For a star word may not only inspire us, or nudge us, but remind us to do the work we are called to do in our lives and be the people we are called to be in the world.
Blessings,
The Rev. Elena Larssen
Star Word 2021: Minister (a bit on the nose, eh?!)
P.S. Thanks for your kind thoughts and prayers as we have transitioned to our temporary home in La Mesa. Needing to vacate the manse of Mark's church as he begins his new call, we are living near family to "ride out the pandemic" and provide a better pandemic situation for our son by podding with our relatives. I'll be onsite every Wednesday to record worship, which is what ministers are allowed to do within guidelines. Again, thank you for the love as we do our best to navigate pandemic life.
December 30
Dear First Church friends,
As the year comes to a close, I am so thankful for you. I am so proud of our church.
While Christmas calls us to see the world in new ways, the events of 2020 have pushed us to action. Some of it has been terrible; some has been liberating. As the new year comes around, I encourage you to take a moment of self-reflection and tell yourself the story of 2020. When we tell our story to ourselves there is a gain in wisdom and perspective. Here are a few recommended practices:
Journal a month by month summary of what occurred. Are you grateful for something in those months?
Collage your thoughts. Many of our Women's Retreat community experienced Soul Collage, and it's a great mode for visual people to reflect. Select images from magazines that speak to you, and then see what themes emerge as you assemble the collages. Are there themes that point toward 2021 and your hopes for the new year?
Set a resolution. It's a classic, because it works if you set a realistic goal, with steps along the way, and rewards for progress.
As we look to 2021, the church leadership have set a soft re-opening goal for July with a more expansive goal of fuller programming in October, if that is legal and safe. This means Winter and Spring worship and programs are online and socially distanced. When we 're-open' don't expect a big bang – likely we will cautiously test in-person pieces in an incremental fashion. Expect a hybrid model: both our beautiful, robust online worship and cautious, modest in-person worship, for example. Due to the generosity of donors, our sanctuary technology is scheduled to improve in specific ways that will allow us to serve the congregation online with excellence, and even share the more modest in-person worship via the internet to the friends at home.
This works because you are engaged and encouraging, plain and simple. The church is showing love and voting with their digital feet by showing up for worship, meetings, classes, and social justice work.
I am so proud, and so thankful for all of you, for the staff who have risen and risen again to the challenges of the year, and to our brave children who lead by their example of resilience.
May you be blessed in 2021, may we all be blessed.
Happy New Year,
The Rev. Elena Larssen
December 23
Dear First Church friends,
Christmas is upon us! Our YouTube Channel is full of wonderful content to support your holiday cheer. We are keeping Christmas Eve celebrations alive with joyful versions of the ancient story, both in word and song.
Our two Christmas Eve services are almost twins, but check the details below:
Christmas Eve Services: 4 p.m. Service with live chat enabled, this beautiful service is also a watch party. Click to watch at 4 p.m. on our YouTube channel.
Christmas Eve Services 7 p.m. with live chat and our traditional Organ Prelude by Dr. Marc Dickey (really, a petite concert!). Click here to watch at 7 p.m. on our YouTube channel.
Both services will remain on our channel to share with friends and family, or for viewing at your own pace. But wait…there's more…
"Christmas and the Rose," running now through January 6 via special link to Vimeo. With all proceeds of the $10 ticket supporting our Historic Preservation efforts, this special retrospective includes the "Big Reveal" of interior images of our restored Rose Window. Prepare to be inspired! See ticket information here.
And last, but not least:
Christmas Playlist. With special thanks to Adreana Langston, please enjoy this Christmas playlist of all the special recordings our Music Department has created for this remarkable online Advent. I know that hearing familiar voices sing our favorites is a wonderful way to celebrate and keep our connections as a church full of life. Enjoy! Click here for the playlist.
Regular services will resume on December 27 and January 3, featuring unique materials produced by the National Setting of the United Church of Christ. We will enjoy a two-part "Very UCC Christmas" mini-movie, and on the 3rd we will hear music from the UCC Christmas Pageant. This is a first-time production from our National Setting, provided to our local churches as support and a demonstration of unity during this long and challenging year.
May your days be merry and bright; may you be wise and careful with your health; may you know that distance is nothing to the love and joy of God; may all beings be at peace.
Merry Christmas,
The Rev. Elena Larssen
December 16
Greetings, First Church! We are so excited about the Christmas Eve services we have planned for you this year. Special thanks to the lay leaders and church staff who have shown such love and dedication to our church. Please plan to enjoy these services on YouTube: organ, bells, soloists, and the beautiful message of Christmas. Gather your loved ones in person or virtually to ring in the birth of Jesus, when loves comes down to earth at Christmas.
Peace of the season,
Rev. EPL
December 9
Dear First Church friends,
What are your "wellness minimums?"
What is the basic self-care you need to make through a day in the life of 2020?
This is a question I posted online, and I got an amazing set of responses: taking a walk every day, getting up and thanking God, drinking water, talking on the phone to a loved one every day. Most of them cost nothing, except mindfulness.
Pandemic conditions may make us more aware of the basic needs we have for health and wellness in body and spirit. For me, it is sleep, vitamins, and physical exercise. Without those, I wear out at hour ten, instead of making it to the finish line of a working parent's 14-hour day. Relationships and spirituality are rich in my life, thankfully. But I have to be sure to hit those three physical wellness targets, or I stall out like a car without gas in the tank.
A couple of people on my post suggested things that I wouldn't consider a minimum, like professional massages. That's their minimum, not mine, no judgement here. Several people had elaborate exercise routines…and I know they are people with chronic illnesses. Their exercise routine is more than a pleasure or a past time. And of course, many Americans, especially populations of color, are disproportionately affected by the K-shaped economic recovery which does not touch all people, meaning living in a survival mode to meet rent, food, and healthcare. Wellness may be a faraway thought.
In the depths of Advent, this season of waiting, I encourage you to think about your wellness minimums.
What is it that makes you able to get from morning until bedtime without the pandemic blues or a pandemic outburst of emotion?
We are all working to weather this storm, and I am so touched by the general generosity of our congregation. If you are able to help, please continue to do so, as is possible for you.
But do not forget the special practices that allow you to stay physically and emotionally hole, and devote time to that wellness. It's not a luxury – it's basic maintenance on one of the greatest gifts that God gave to First Church: YOU.
Sending love and prayers,
Rev. EPL
November 25
Dear Friends,
I hope you enjoy a restful day of gratitude tomorrow! While I am challenged to celebrate our Pilgrim heritage during this time of uprising, gratitude is the first step into our Advent season.
This year our Advent theme is "Carol Our Christmas" from the sunny-weather carol by Shirley Erena Murray of New Zealand. Since Christmas carols are the favorite music of so many people and we cannot gather to sing them, sharing them richly in our services is a way to celebrate, regardless of distance. You will hear our children, our Sanctuary Choir, and our soloists sharing songs of the season in every service between now and Epiphany in early January.
We have Advent devotionals available for pick up or delivery. Please contact Ruth in the church office, and Alison Mitchell (the elf who delivered Advent craft bags to our families with kids!) will arrange for you to get one.
And if you are looking for ways to celebrate Advent-at-Home or over Zoom with kids and grandkids in other places, I do recommend Faithful Families for Advent and Christmas by Presbyterian Christian educator Traci Smith. It has activities and stories and is the kind of thing you'd pack in the Christmas decoration box at the end of the season for next year (one of her key tips).
May your Thanksgiving be a place of peace, not solely a time of gratitude. May you have rest and comfort. May you share if you are able to share; may you allow yourself to receive what you need from others. May all being be at peace,
The Rev. Elena Larssen
November 11
Dear First Church,
Here comes our First Ever First Church Telethon and Talent Show!
All are welcome to attend this Saturday evening, November 14, from 5 p.m. to 7 p.m. only!
The Telethon is being hosted live and in-person by Diaconate Board member Doug Emslie (all safety protocols in place) from our own Sanctuary, while our Stewardship Team is live on Zoom making calls to our members and friends.
A few key details:
The Telethon is a real-time event and will not be archived online! If you want to see the soloists and our children, our organist and music director, as well as talent acts from our members (including at least one dog trick!), you need to be present online on our YouTube Channel.
Pledges amounts are confidential at First Church – the team is not aware of your personal pledge and you will not be asked about a number on the phone. Your pledge is between you and God.
The church office phone line will be staffed during the event by volunteers if you do want to call in your pledge.
If you want to update your online giving, you can do so by calling in that evening, filling out the yellow sheet included with your stewardship letter, or updating on our website.
We will be thanking people for their participation in the pledge campaign live during the telethon (again, no amounts shared), unless you opt out on your pledge card or on the phone. But think of it this way: hearing familiar names is a joy!
Truly, 2020 is a year when selfless investment in community is needed. Thank you to those who have already returned pledge cards, and thank you to those who will make our ministry possible!
Blessings,
The Rev. Elena Larssen
Prayer of Dedication of the East Rose Window (The Bixby Window) from November 8, 2020
By the Rev. Elena Larssen
Gracious God, we give you thanks:
That this is a day when we celebrate the in-breaking of light into our house of worship.
We are more than one way of thinking, we are more than one way of voting, we are a people impassioned by dialogue and effort to make this world a better place.
And gracious God, we have discovered that one of the mighty workers in our efforts for justice arts and education is our historic building. It is a place for Christian education and education beyond Christianity into a celebration of your Holy Spirit in all the religions of the world.
Like the many colors of glass in this window, we are your diverse people coming together to increase beauty, love, and justice in this world. It draws people to us. It includes people who have non-religious interests in promoting a culture of justice and peace. It celebrates the history of Long Beach, while promising a future of inclusion and grace.
In the rainbow light of the east window, we remember the Bixby family who consecrated this land, and with a mighty congregation of our forebears in faith built this building in 1914 and dedicated it as built for worship but designed for service.
This property is more than brick and terra-cotta and glass. It is not just this one sacred room; it is 56,000 ft.² of energy for mission. This property houses our homeless outreach program, and houses our program for neighborhood children. Your house is a preschool; it is a place for learning and living and loving seven days a week.
And for us, who call it our spiritual home: it houses our worship. It holds the most joyous celebrations of our lives, our baptisms and weddings and Christmases and our Easters. It holds our silence when we are grieving and in pain, our memorials and vigils for injustice, our Ash Wednesdays and our good Fridays. It has given us the blessing of Christian wisdom to sustain us even when the light has been blocked and the doors have been closed.
It is a place for art that seeks to be justice, and justice that seeks to be art.
So gracious God we dedicate this window today with gratitude for the past but not dedicated to the past. We dedicate this window to our future, that the light of God's love may continue to break in to our community and our lives, giving us transformation, and helping us transform the world. Amen.
November 4
Dear First Church friends,
Today is Wednesday, and tomorrow is Thursday, and tomorrow we will know more than we know today, and today we know more than we did yesterday.
But the waiting is a terrific stressor. How can we hold vigil without breaking under the tension, or breaking our friendships?
Today is Wednesday, and tomorrow is Thursday, and tomorrow we will know more than we know today, and today we know more than we did yesterday.
If you need something more to help you stay grounded as election results clock in, I offer this ritual for waiting from the Rev. Chrissy Cataldo. Know you are in my prayers and on the other end of the phone line if you need me.
Sending prayers,
The Rev. Elena Larssen
A Ritual for Waiting
First you need some sand, to remind you of 40 years in the desert. This moment isn't the first time a scared and cranky people were lost. (My friend Mendy assures me that his people weren't lost. They just couldn't agree on where they were going. His assurance helps, at least a little.)
If you don't have sand, find a candle. Light it, if you have a match. Feel the warmth. See the light, if you can. Know that the light is shining, if you can't.
If you don't have a candle, find the dark. Under your blanket would do just fine. Waking up at 3 am can work, too, but it isn't optimal. Even closing your eyes might help. Think of rich soil and of canned green beans stored in the cellar. Remember the looming depth from which Creation was born. Know that good things happen in the dark all the time.
If the dark isn't working, take a walk. Find your glasses. Get up. Move just a foot in front of another. On concrete or dirt or grass or just around your home. Remember the two men who were bereft that their friend and savior had died. Remember how they met him again on the road, this time, fully alive. Remember that, on a different road, that other guy, the one who had been so hateful, saw a light and was changed. I don't know if this walk will change you, but those guys didn't expect what was on their walk either. What I'm saying is, the walk couldn't hurt. Just please come back.
If you don't have sand or a candle or a blanket or somewhere to walk (seriously, who has all these things)… If all you have is time and your body, tired and anxious as it is, do this: Sit up (or lie down). Tell you knee to stop jiggling (just for a moment). Unfurl your fists and stretch out your fingers (only as far as you can). Straighten your shoulders. Move your head from side to side. Stretch out the knots. Take a breath. Count to four. Let that breath out. Count to four. Repeat until you feel solid like a table or like a tree that still sways in the wind.
Go get some water.
Eat a bite of bread (gluten-free or gluten-full).
Say Amen.
This is how we wait.
The Rev. Chrissy Cataldo is the minister of Winthrop Congregational UCC in Maine.
October 28
A Prayer for Election Day
Holy One, we pray first and foremost for peace. Not a false peace, but the calm of a heart that has stood with integrity and spoken for justice.
May our sense of community and connection be greater than any division or difference, no matter how entrenched.
Knowing that many have voted by mail and many will vote in community gathering places, may our commitment to care for one another grow as we watch to see that our ballots are received, as people stand in lines in masks, as they see their neighbors and recognize we have more in common than we often realize.
May we show one another kindness and respect, today and in the days to come.
We thank you for the freedom to vote our conscience, for which you alone are our guide.
As we pace the days toward the election, we are keenly aware that even if the political rhetoric fades the acrimony will remain.
Grant us the courage to step into the breach and not shrink back into our enclaves of homogeneity.
Send your Spirit to drive us to the places where you are already working to bring reconciliation.
Remind us relentlessly that
Love is greater than every category we devise,
more powerful than any estrangement we have created,
eternal, ever present and
always calling forth justice, peace and abundant life.
Show us today and everyday how to live in the love of Jesus, who demonstrated even in the very worst of times that perfect love casts out fear. Amen.
Original version by Jill Duffield of The Presbyterian Outlook
Adapted for 2020 and First Church by Rev. Larssen
October 21
Dear First Church,
Calling all talent acts!
On Saturday, November 14, from 5 to 7 p.m., our Stewardship Committee is hosting the first-ever First Church Telethon! Save the date, pop some corn, and join us for a happiest hour of celebrating our ministries…and our dreams.
This YouTube event will be broadcast live from the Sanctuary at First Church with our Stewardship Committee calling you personally to thank you for your pledges past and future.
But first…we need videos of your talent acts. Kids, adults, singers, plate-spinners, puppy tricks…all are welcome to submit videos to our Video Editor for editing into the live framework of the show.
Every year, the congregation commits to make financial support to the operation of the church and our resident programs. In pre-Covid times, our congregational programs and campus support ~15,000 individuals for worship, human services, education, arts, and cultural events. During this time of "shut-down," the essential-worker programs of Urban Community Outreach (to our homeless neighbors), DAYS Long Beach (services for children, youth, and their families), and Un Mundo Preschool continue operations on our site, and the congregation (which does not have "essential" designation) has radically adapted to online programming, reaching new and old friends by the hundreds.
Thank you for your part in our dramatic pivot to online worship, social justice work, youth group, and community life. Your participation and pledging give the lay leadership and staff the courage to keep moving us all forward in faith. And knowing that we are connected in faith despite challenges and changes keep this minister's joy alive, too.
Sending blessings,
Rev. Elena Larssen
October 14
Dear First Church,
Today I am very pleased to share some news from our family: my spouse Mark Pettis has been called to be the new Ecumenical and Interfaith Program Manager for the United Church of Christ. (See the UCC announcement here.)
This is my Mark's dream job. As ambassador for the national denomination, he will be responsible to connect our unity-loving church with other Christian denominations and represent us in interfaith cooperation efforts. He will be saying farewell to the Manhattan Beach Community UCC and beginning his new position with the National Setting on February 1, 2021. As is often the case with vocational calls from the Spirit, he has been preparing for this throughout his life, first in politics and media relations, then as a student of organizing, and for the last eleven years as a local church pastor deeply vested in interfaith work. As you may imagine, the Pettis Larssen household is deeply joyful!
In normal times, the national staff of the UCC is Cleveland-based, working out of the Church House at 700 Prospect Place near the Quicken Arena. Due to the pandemic, the entire national staff is grounded from travel and working remotely. Additionally, Mark has been granted "remote worker status until further notice," which means that we are moving to Long Beach for the foreseeable future.
We are very happy about this opportunity to live in our "beautiful city," the "sparkling jewel on the Pacific," as poet Tina Datsko has written. If you would please pray for us, that we would find appropriate and modest housing for two adults, a kid, and a basset hound? We do not envision something permanent at this time, preferring instead to give ourselves some time for the world to become more settled. But we know that the rental housing market is daunting and need your support to make this change happen.
If you would like to drop a note to Mark, please do so at mark.pettis@mbccucc.org. Thank you for your love and prayers as we transition to Long Beach!
With joy,
Elena Larssen
October 7, 2020
Dear friends,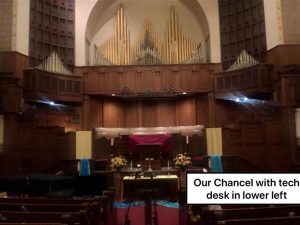 Today I am sharing a few snapshots of the sanctuary as we prepare worship for this coming Sunday. You can see that the floor of the chancel is occupied with technical materials that never show when you see the finished service on YouTube.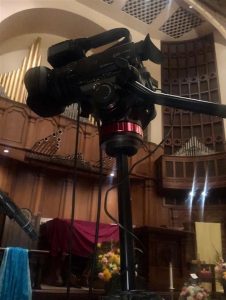 You can see the camera we are using. We simply move it from one place to another within the sanctuary in order to give you views of the different worship leaders. I know that watching Dr. Dickey's pedal work is one of the silver linings of our online experience! That's not something we can usually see, but the camera lets us see that part of the musical magic of our service.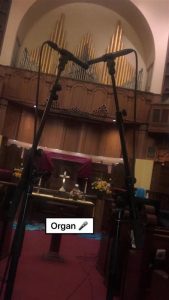 You can also see microphones in the center aisle; that is how we capture the total sound of the organ in our space. Recording the sound of a large pipe organ like ours is quite a technical feat. We are very blessed to have a long line of talented audio engineers working in our space.
Editing is the next piece of tech magic that makes a service feel vibrant. After the music and the spoken word pieces of the service are completed, our editors go to work cleaning up the audio and adding slides, titles and subtitles, as well as images to knit the whole thing together. By replacing some of the elements of our service with video, like the announcements or the offering plates, we keep our community life active in a way that is easy to experience on a screen.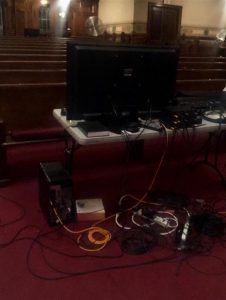 Together, we are on a journey that is requiring us to learn new tech skills. I am grateful every day that we live in Southern California and have access to talented volunteers and professionals who understand film and TV — and understand that the technology is a tool in service to our spiritual life as a church.
We are committed to continuing to offer online programming into the future; we have learned that it involves and includes more people. May our hearts, minds, and doors be flung open, even on the internet!
Love and blessings,
Rev. Elena Larssen
September 30, 2020
Dear First Church,
As the election comes closer, I know many of you are engaged in direct action.
For those who are seeking reflective action, we are invited to join the Rev. Dr. Scott Landis, one of my UCC colleagues, as he and his community practice 40 days of prayer and meditation for the November elections.
You may remember Scott as a retreat leader here at First Church; he is now pastoring in Maui after his long tenure as Senior Minister at Mission Hills UCC in San Diego. Sign up at their website – www.shineyourlight.us – to receive daily reminders and guided meditations, thoughts, and prayers.
As Dr. Landis says, "This election is crucial. Prayer changes things. You can make a difference. Mahalo for your support."
As we make our voices and votes count, consider adding a reflective moment to your day – and care for your spirit in the process.
With prayers for your well-being,
Elena Larssen
September 16, 2020
Dear friends,
The more I read, the more grounded I feel.
For me, reading is a life-long passion. And while I have tried e-readers, I have a hard time with the blue light and have gone back to "real" books. I also like how easy it is to share a book with a friend!
This past summer was graced with the beauty and insight of Braiding Sweetgrass and the book of Romans, which were the underpinnings of our summer worship services. Wonderful reading, which gave insight and food for thought. And this fall, there are several books on my required reading list which will be featured as part of our church life. (Here you see required reading on the lower step and supplementary reading on the upper. Tea included.)
How to Be an Antiracist, by Ibram X. Kendi, will be featured in our services as contemporary readings. And Caste, by Isabel Wilkerson – just added to Oprah's Book Club – will be featured in the Saturday Night Women's Retreat, beginning on October 3. Below you will find biographies of those two authors. As fall approaches and many of us are sheltering at home, may you have the comfort of a good book to enliven your mind and heart!
Sending peace and prayers,
Elena Larssen
P.S. A prayer request: I am off to church this afternoon to pre-film worship segments for Sunday. So. Weird. Would you pray for me and for the church staff? As we work to provide the most powerful worship we can, we have encountered an untold obstacle course of technology and Covid-19 safety requirements; our goal is to create life-giving worship even in the strange new world of "church on tv." As we do so, the team are learning a hard lesson that what feels life-giving on screen does not always feel life-giving in the production process. For this, they need your love and support. Please make a point to reach out to a member of the church staff and share your thanks and positivity; it will make their day and remind us that we are in this together.
Love, Rev. EPL
Ibram X. Kendi is a #1 New York Times bestselling author, the Andrew W. Mellon Professor in the Humanities at Boston University, and the founding director of the BU Center for Antiracist Research. Kendi is a contributing writer at The Atlantic and a CBS News correspondent. He will also become the 2020-2021 Frances B. Cashin Fellow at the Radcliffe Institute for Advanced Study at Harvard University. He earned his undergraduate degrees from Florida A&M University and his doctorate from Temple University. Kendi lives in Boston.
Isabel Wilkerson, winner of the Pulitzer Prize and the National Humanities Medal, is the author of The Warmth of Other Suns, the New York Times bestseller that tells the story of the Great Migration, a watershed in American history. Wilkerson won the Pulitzer Prize for her work as Chicago Bureau Chief of The New York Times in 1994, making her the first black woman in the history of American journalism to win a Pulitzer and the first African-American to win for individual reporting. In 2016 President Barack Obama awarded her the National Humanities Medal for "championing the stories of an unsung history."
September 9, 2020
Dear First Church friends,
Rally Day: A Homecoming of the Heart is here!
This Sunday, we start our fall programming mode – of course, this year is adapted to online programming and virtual Sunday services. I am pleased to announce another tradition coming back to our program of worship:
Service of Prayer and Communion hosted on Zoom by the Diaconate Board every Sunday at 11:15 a.m. (after our primary service at 10 a.m.). Hosted by the Diaconate, and officiated live by yours truly, this will be a continuance of our custom of offering Communion all Sundays of the month. This service will resume the "Small Communion" tradition of offering a simple service during the other weeks of the month. The first Sunday of the month will continue to be a whole church Service of Holy Communion within the 10 a.m. hour. Please note: The prayer list of the church will be shared on Zoom and not on YouTube in order to provide greater privacy to our members – while I know I will miss sharing the joys and concerns of the church in the 10 a.m. service, I am consoled that the relative privacy of Zoom will allow the face-to-face sharing of prayers in community with one another. All are welcome, "bring your own communion elements," and the Zoom link will be published in the Friday Greetings via email.
Musicians go live! Starting this Sunday, our musicians will be performing live! With support and guidance from our safety leaders, Curtis Heard and Marc Dickey will be "live on the keys" of our Mighty Moeller and the silver-voiced Steinway, while Megan O'Toole and Carlos Carlos will lead us vocally from the chancel. The Sanctuary Choir will be present via the impressive technical skills of Mr. Heard, presenting the hymn closet to my heart: "How Can I Keep from Singing?"
Meet Paisha: Many thanks to Curtis Heard and Paisha Bleich for researching and planning a live-music service to make our fall season special. Paisha is a recent graduate of CSU Fullerton with a Bachelor of Arts in Theatre Arts, Specialized Studies in Theatre Concentration, Design/Technical Production Emphasis. She brings more than five years of experience as a Technical Supervisor from Universal Studios, Calvary Chapel, and her alma mater. She is also a carpenter, and we are delighted to welcome her to our church staff!
As we rally together in friendship and support, let us remember to be
grateful for the long history of the church that supports us…
grateful for the dedication of our current members who sustain us in this unprecedented challenge…
and grateful for the children and youth of the church who already are the church of tomorrow.
Together, we are keeping the "Tower of Faith in the Heart of the City" glowing as the "Corner of Justice and Arts" in our homes, on our screens, and in our hearts.
Sending peace and prayers,
Elena Larssen
September 2, 2020
Dear First Church,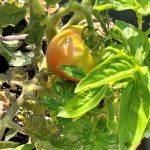 I planted tomatoes early this summer. It is something I've wanted to do for years; now I have four pots, and the green buds are becoming something resembling a delicious summer tomato.
How shall we grow in this time?
As summer draws to a close, our church families are beginning the school year via screen. Our school offers a balance of Zoom-instruction and prepared videos and assignments. There is both an immediacy to this online community…and a sense of distance. We see where we've been, where we are, and where we are going, all at once. Timing isn't everything, oddly enough.
As we prepare our fall online worship, we are
having these exact discussions: how many people can be in the sanctuary to record worship? What do the city, county, state, and our insurance company support? What can be pre-recorded, what should be live? Many, many liberal churches are pre-recording their whole service in advance, and only dipping a toe into live online worship. The immediacy of live events is great, but usually rougher in presentation or tech quality. Pre-recorded versions are smoother and more elegant – but not live. Few congregations possess the technology to live stream a whole service with a whole "cast of characters" leading the liturgy and music.
How shall we grow in this time?
It all requires patience. As our sense of time and occasion is shifted by new practices, what it means to be "live" changes. The experience of different technology modes can contribute to the sense of aliveness we really seek: aliveness and a sense of growth in community.
How shall we grow in this time?
In large part, we grow because we allow ourselves to
learn and appreciate new tools for togetherness. We grow by realizing timing isn't everything. Instead, this strange new version of aliveness allows us to see both the green tomato and its future red and ripe self.
Sending peace and prayers,
Elena Larssen
Pastoral Note: I'll be visiting my mother this weekend, and the Rev. Katy Hyman will be leading service with a pre-recorded sermon from yours truly. Rev. Hyman is also available via phone or email for emergency pastoral needs, although in-person visitation is not allowed under the current Purple Zone orders.
August 26, 2020
Prayer of Confirmation – Sunday, August 23
Spirit of love, spirit of life,
You fill the cosmos with your mysteries, as far as the galaxy stretch yet found as close within the various cells that make us live. You are close to us as breathing, as distant as the farthest star. And we call upon your holy name today, and we ask that you confirm this beloved child of God. Make them a disciple of Christ and the member of the church.
And beyond the traditional language, we ask that you give them a questing and curious spirit that means they will never outgrow their faith. Let their faith be a comfort and confidence to them, that they would be comforted and made confident in the face of adversity, and that in times of joy they would feel confident of your love and be comforted that joy endures.
The young people we confirm today are part of a generation that receives this world in its most daunting hour. They are the ones who, with the guidance of tradition and the wisdom of the ages, will hold we who are older accountable to desperately important dreams. They are the ones who will secure and transform the present and live out our future, a future we but dream in today's climate.
Let them have roots in tradition: in the stories of the Bible and the teachings of Jesus.
Let them have a faith that gives them wings, lifted by love of community and the energy of the Holy Spirit.
And may we, who confirm them today, commit ourselves to empowering their versions of justice and truth, standing alongside so they may be brave and bold, reminding them to be persistent, and unafraid of their impact on the world.
Holy One, as they grow and change, be a sparkle in their times of solitude. Be the energy that joins together their communities in bonds of love. And bless them forever to have a faith that grows with them, changes with them, supports them with traditions, inspires them to make new worlds.
We pray these things in the name of the God who is a mystery of love, the presence of divinity in the religions of the world.
And we also pray in the strong name of Jesus, the blueprint for our lives, who teaches us to live a life less ordinary, a life with no price tag, Free from clichés, but full of message and meaning.
And we pray in the name of the Holy Spirit, the divine energy that brings people and communities together and makes love and justice not just a promise but a passion and a possibility. Amen.
August 19, 2020
Good afternoon First Church,
I am pleased to announce that Eric Peterson is joining the First Church team in the new position of Business Operations Manager!
As the Business Operations Manager, Eric is primarily responsible for the overall operations and maintenance of the church campus and properties, including interface with the non-congregational programs that are part of the community life of First Church. He will also work with our Finance Office, administer contracts, and support the growth of our building use income.
Eric is a graduate of Concordia University in Irvine and comes to us from StepHouse Recovery in Fountain Valley where he handled contract management, operations, human resources, and digital marketing.
His breadth of skills and experience will be an asset to the congregation and our goals, and we welcome him warmly.
Eric's first day was Monday; please note, this position is 32 hours per week and he will keep regular office hours Monday through Thursday, 9 a.m. to 5 p.m., both on- or off-site, as Covid safety allows.
Welcome, Eric!
Blessings,
The Rev. Elena Larssen
August 12, 2020
Dear First Church friends,
This week, I am grateful for our lay leaders!
The culture of First Congregational Church is hands-on and member-driven. Empowering lay leaders is one of my most important ministry tasks, and supporting and coordinating lay teams is one of my favorite roles. I love seeing people follow their passion and finding the energy of God inside while they do so.
We have church community members who do everything from…
to teach our kids to mentor our youth to ring our bells to sing our services to oversee our finances to monitor our pigeon pest problem to plan our social life to create our social justice campaigns to hang our banners to create our arts events to pray and make care calls to raise needed funds to preserve our building to serve us communion…and more than I could ever summarize.
And all that ministry is done in teams, whether we call them committees, boards, teams, or ensembles.
The cultural conversation about "how to go back to school" for our children and education systems is revealing that teamwork is a key part of making healthy progress to community goals. Bravado and empty encouragement aren't as helpful as realistic and caring teamwork. As I watch the conversation unfold, the words "mindful support" encapsulate to me the way we can work together, even under such trying circumstances. Given the prolonged nature of our pandemic circumstances, showing mindful support to one another is important.
Each member is an important and respected person who needs to take care of themselves. Every person matters – taking care of yourself is your first contribution to the team.
Leaders comes in all styles. Take a moment to be thankful that we have different abilities, which gives the community strength.
Some days, we will see silver linings and some days we won't. Being realistic might be hard, even when "being realistic" means seeing something encouraging.
Even perfect situations have challenges. This reminds us to define success, so that we are reasonable in our expectations.
There may be times when we are missing critical information and details. Making "best possible" decisions and frequent revisions means patience and adaptability are gifts.
Not all members are doing well in this time. The ones who are should be encouraged; the ones who aren't deserve kindness and accommodation. It takes seven positive interactions to balance one negative; be careful with your words.
We are preparing for worst-case scenarios. While this may not be needed, being prepared may help us deal with the stress of this time. If needed, we will be ready.
Try to filter out voices that damage morale. It would be great if everyone in our culture were on the same page, but the clashing voices in media can wear us down.
It's very likely that we will be short on resources, and there will be times when our goals will be deferred until appropriate resources can be assigned. When one project works and another doesn't, how can we surround each other with support?
Being a mindful and supportive member of the team is hard work and makes a big difference for others. It's not easy to adjust and adapt, and everyone is doing it. Your time, energy, and dedication are significant gifts that make all the difference.
Our beautiful community is the result of the love and passion of our members, who share their God-given gifts with us all. Accomplishing our ministry dreams takes mindful support and energy. Please join me in gratitude and show mindful support to our lay leadership.
Sending peace and prayers,
Elena Larssen
August 5, 2020
Dear First Church friends,
Confirmation Class…in a pandemic?!
I'm pleased to announce that Sunday, August 23, will be Confirmation Sunday Online, a long tradition of the church when young people '"onfirm their baptism" and join the church as adult members.
At First Church, this process includes interfaith immersion experiences, a mentoring connection with an adult in the church, and the development of a personal faith statement. With Advisor Debbie Bond, I encourage the class members to articulate their view of the world, their mental images of God, and to challenge their concepts of Jesus. As a person grows, their faith view should also grow beyond the age-appropriate lessons of Sunday School to something appropriate to their world view as teenagers and young adults.
I once knew of a man who rejected the whole notion of religion, God, faith, and church because his grandmother had once told him there was "one way to heaven." As an adult, he married into a United Church of Christ family and felt much more at home with our inquisitive culture and open-minded theologies. But that one comment had set a boundary around his identity so firmly that…fifty years later…he was convinced that the entire enterprise of religion was not for him. Fifty years and a lifetime of experiences of liberal religion, and he still held that limiting self-concept from his Sunday School days.
Confirmation encourages our young people to interrogate their own biases and challenges them to a curiosity about religion and their personal theology. Fifty years from now, we want their memory to be that they heard encouragement toward a vibrant faith life…and to possess the theological savvy to know that the church is for all people, regardless of whether someone you respect has a more conventional view.
Faith should encourage us to journey beyond our limits and strengthen us when we are forced by circumstances beyond our limits.
May it be so for our Confirmation Class this year! May faith and the Church be an evolving source of strength, curiosity, and comfort throughout their lives.
Peace and prayers,
Elena Larssen
July 29, 2020
Dear First Church friends,
In what is usually the most playful time of year, we are instead faced with meager good news: LA County has a plateau, but one so high that we at FCCLB are buckling back down for an August of no in-person activity.
I have begun looking for inspiration to the Second World War, a time remembered by several great elders in our church. Blackouts, curfews, anxiety on the global stage…we now know these first-hand in Long Beach, where perhaps for most they were previously only the content of a movie plot shown in grayscale.
And so the poster slogans of another day come to mind: loose lips sink ships, keep calm and carry on, we can do it…These are good words for us today:
Take care with communication,
give others enormous elbow room as we work together under extraordinary circumstances,
put effort into your emotions and mood for your own sake and for others.
In short, be exceedingly kind with yourself and everyone in your circles of contact.
At FCCLB we made a strategic choice when the initial shut-down occurred: to continue our ministries and plans. We could have simply put everything on hiatus. Many congregations have simply paused their shared life. But FCCLB has initiatives that would not solve themselves without elbow grease, and so we have moved forward with worship, community life, social justice, and even (with much double-checking of the finances) our new staff structure. In doing so, we hope to offer the best of a church life in the safety of an online environment, while offering in-person options when allowed.
As society re-aligns in the coming months, we will be stronger and better prepared to do our part with a sustainable and inclusive plan of ministry.
We have a history behind us, but also the promise of history that we shall make together. It simply lies ahead of us, ready for us to build it together with patience and bravery.
With love and prayers,
Elena Larssen
July 22, 2020
Have you met Robin Wall Kimmerer? She is the author of our summer book, Braiding Sweetgrass: Indigenous Wisdom, Scientific Knowledge, and the Teaching of Plants. Excerpts from her book are serving as the contemporary readings in our service. She shares both the history of the Potawatomi and their historic stories.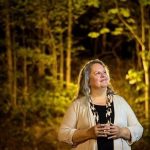 Bio: Dr. Robin Wall Kimmerer is a mother, scientist, writer, and Distinguished Teaching Professor of Environmental Biology at the SUNY College of Environmental Science and Forestry in Syracuse, New York. She is the founding Director of the Center for Native Peoples and the Environment, whose mission is to create programs that draw on the wisdom of both indigenous and scientific knowledge for our shared concerns for Mother Earth.
Kimmerer is an enrolled member of the Citizen Band Potawatomi. Her writings include numerous scientific articles and the books Gathering Moss, which was awarded the John Burroughs Medal for nature writing in 2005, and Braiding Sweetgrass: Indigenous Wisdom, Scientific Knowledge and the Teachings of Plants, to be released in October 2013. As a writer and a scientist, her interests in restoration include not only restoration of ecological communities, but restoration of our relationships to land. She lives on an old farm in upstate New York, tending gardens both cultivated and wild.
How shall we find our place in the family of things? In a summer when we are considering ReCreation instead of traditional summer recreation, her vision for a world that listens and shares is an inspiration.
Sending peace and prayers,
Elena Larssen
July 15, 2020
It is good to be back with you all, after two weeks away to spend time with my mother. She and I are very close, and it was deeply reassuring to be able to visit and connect. And, of course, she and my almost-six-year-old are fabulously mischievous together, doing "farm projects " and science experiments. It now appears that we may have made the trip in a narrow window of openness that is now closing again.
We live in this tidal movement of changing circumstances and new news. "Can we go to church? Can we not? What will it be like?" It can be wearing on our emotional and spiritual health.
But at First Church, we are offering a consistent message of support and a clear plan:
We are committed to offering online worship every Sunday, to keep you informed, and connected.
When the time comes that we may have some in-person attendance, the staff and volunteers will be ready to offer a safe and comfortable experience – and we will continue to provide an online worship service. Those preparations are in progress, and your ongoing support and encouragement is making it a labor of love. Thank you.
A both/and for our diverse and intersectional church! May the Corner of Justice and Arts be more than an address – may it be a spiritual home that is alive in each one of us.
Love and prayers,
Elena Larssen
June 17, 2020
Dear First Church Friends,
Following our viewing of "The Cross and the Lynching Tree" by the Rev. Dr. Otis Moss III last Sunday (on YouTube here), our denominational officer who programmed that event, the Rev. Dr. Velda Love, has shared several key online events.
Here you will find follow up materials to that sermon: A Statement from the National Officers of the United Church of Christ – The Cross and the Lynching Tree Webinar Video.
In addition, this Friday morning provides a special online event to observe Juneteenth. Juneteenth observances invite entire UCC to recall slavery's end and commit to action. Friday is Juneteenth, our national celebration of the ending of enslavement. This date commemorates June 19, 1865, when United States General Gordon Granger read federal orders in Galveston, Texas, that all previously enslaved people in Texas were free. This marked the arrival of the Emancipation Proclamation into the areas of Texas where Confederate-minded enslavers had fled to maintain their practices. News of the Proclamation took two and half years to reach the deep Confederate pocket of Galveston, while other areas of the country still lagged in observing freedom. Register for Juneteenth 2020 here.
For those seeking a deeper process of education, UCC members and friends are welcome to register for the Sacred Conversations to End Racism at the Summer Institute 2020 Wednesday July 8.
Regarding the logistics, these ministries are supported by our congregation's financial pledge to "Our Church's Wider Mission," which is the historic name of our giving program to the national church. You do not have to be a member of First Church to participate in national United Church of Christ education and social justice action programs; you can sign up directly with the national website: ucc.org, as listed above. I encourage you to explore and find the many resources that help us move from good intentions to well-informed action.
Sending prayers,
Elena Larssen
June 10, 2020
Dear First Church friends,
Sometimes we are aware we are watching history be made, and we pray we are seeing history be changed.
On Sunday, May 31, at 6 pm EST, the United Church of Christ broadcast a live viewing of the Rev. Dr. Otis Moss III's cinematic sermon preached at Trinity UCC Sunday, May 17, entitled The Cross and the Lynching Tree: A Requiem for Ahmaud Arbery. Following the live video, a panel discussion with four respected thought leaders, racial justice advocates, and UCC pastors discussed the impact of historical and present day acts of racism and violence towards African Americans and how the Christian Church can be actively involved in dismantling racism.
This Sunday, we will utilize the Virtual Church mode of our worship to experience a powerful sermon by the Rev. Dr. Otis Moss III from Trinity United Church of Christ. Trinity UCC is the largest church in our denomination, headquartered on the South Side of Chicago, and famously witnesses under their historic motto, "Unapologetically Black and Unashamedly Christian." Joining in a movement with congregations across our national church, we will participate in viewing a powerful filmic sermon by one of the finest preachers of our time, within the live stream of our regular service. This powerful moment amplifies the prophetic voice of Dr. Moss and connects us with the conversation in our wider church.
I will still be "live on the corner of justice and arts" to lead the pastoral elements of the service, and our marvelous Music Department will be sharing some special Pride Month gifts to lift our spirits.
"Racism is a virus. It infects the spirit." – The Rev. Dr. Otis Moss III
Let us keep our spirits alive to listen, learn, act, and make change within our hearts and our communities.
Elena Larssen
June 3, 2020
Dear First Church friends,
Our community, like so many, is faced with the challenge of multiple crises occurring at one time.
In Zoom meetings, and emails, and on the phone, our church leadership are working to manage the pandemic response and move forward with church programming, provide spiritual life and emotional support to one another, re-imagine worship and technology to provide high-quality virtual church into the future, while the Board for Social Justice and Outreach are working to find the most constructive ways to express support for racial justice and Black Lives Matter. All while getting the rose window back in the wall.
All of this requires communication. Listening, truly listening. Sharing the space and releasing the need to dominate and "fill the space."
To encourage a climate of values-based communication, our Executive Committee of the Church Council researched and shaped this statement as a guide for our values around communication:
We are a Christian community of faith that offers one another comfort, support, and love. Therefore, we take the most generous approach to each other as possible — appreciation, gratitude, and, above all, respect. We listen, we work to find common values, and we endeavor to understand our own biases. We know there is a place for disagreement, but our approach is to build consensus — that's what will bring enduring change. Whether in meetings or in our written communications, no matter the issue at hand, we expect clarity, concision, civility, and honesty.
I encourage all the boards, teams, committees, and gatherings of the church to read this aloud at their next occasion. In this time of global uprising, may this be a gift to our church that helps us listen and learn from one another in love.
Sending love and prayers,
Elena Larssen
May 27, 2020
Dear First Church,
I am pleased to invite you to a special event on Monday, June 1, at 7 p.m.!
In honor of Pentecost, the Board of Cultural Arts and the Worship and Arts Ministry Team have prepared a film and discussion called "Listening for Wisdom: A Poetry Event."
With original poetry by our Poet-in-Residence Tina Datsko de Sánchez and original composition by our Director of Music and Composer-in-Residence Curtis Heard, this bilingual poetry reading is open to all. Film editing is by church member Kathryn Boyd-Batstone, recently graduated from USC film school.
This series was written and translated for our Lenten worship series but interrupted by all the current events of pandemic and stay-at-orders. Adapting, the Worship and Arts team has created a film version and are hosting a live discussion online after the Monday night premiere. The film will run about 18 minutes, and the discussion will begin shortly after. Tune in on the FCCLB YouTube channel at 7 pm, and then join the discussion on Zoom immediately afterward.
We are a community of many languages, many voices, and many dreams. Thank you for celebrating Pentecost with First Church on Sunday and Monday evening, too!
Sending love and prayers,
Elena Larssen
May 20, 2020
Dear First Church friends,
Pentecost is coming! This is your Pentecost-themed photo call: flames, wind, the color red, and images from around the world…please send us your pictures and help us celebrate the holiday that brought cultures together and inspire energy in community!
Here are a few photos to inspire you…yours may be sent to the office manager: office@firstchurchlb.org.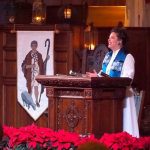 First Church, Christmas 2019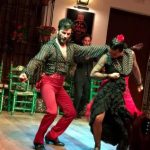 Sevilla, Spain 2019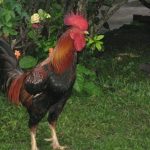 Davao City, Philippines 2020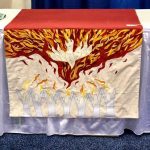 Communion Table, United Church of Christ Synod 2019 in Milwaukee WI
Peace and prayers,
Elena Larssen
May 13, 2020
Dear First Church friends,
Continued thanks to our Emergency Response Team! Every week the Rev. Katy Hyman, Dr. Shom Dasgupta-Tsinikis, and Dr. Bob Kalayjian are connecting with me to review the orders and make sure that the whole campus is safe and secure.
What is it like on campus? Clean and quiet. Full of a sense of prayer – decades of love and justice have permeated the environment and it's as though the very bricks are holding a vigil for us, reminding us to be patient and faithful.
What's the news? Nothing much – there are no new standards for practice at 241 Cedar to report this week. We continue to be on Stay at Home orders and are not open to the public, including our own membership. The church staff, elected leaders, and volunteers are working hard from home to adapt our programs and administration to keep our congregation and affiliated ministries vibrant.
On site, in keeping with the order:
Preservation construction has resumed this week, with a micro-crew of construction staffers allowed only in the historic building during the week.
Un Mundo Preschool is operating with highly modified practices and a small number of children.
UCO and DAYS are working to provide groceries to the families and clients of those programs. Deep thanks to all who are donating to make this possible!
On Sundays, I am onsite for livestreaming the service with David, our audio tech. In the afternoon, musicians come one or two at a time to record the music for subsequent services. At this time, no volunteers are permitted to record on site.
During the week, maintenance staff are securing, cleaning, and sanitizing the building, and catching up on painting and repairs. We have minimal administrative staff and officer visits to keep the mail and financial operations flowing. By Personnel Committee recommendation, our staff people are kept on payroll, even if they have to stay home for safety reasons.
What can you do to help? Participate online – and let us know if you need help getting online. Making our online worship services, gatherings, and classes vibrant with your participation is an amazing way to help the church. Being present to each other is powerfully important, and helps us keep the church strong, too.
This is timely: we are entering a third phase of isolation, which can be lonely and even harder than the first two phases. The first phase "flurry of adaptation" is past, when we rushed to gather supplies and make plans. The second phase is the so-called "sourdough starter phase"[1] when novelty buoyed us along and working in pajamas seemed fun. The third phase of isolation reality is setting in, and this is a time to be very careful with your emotional well-being. Treat yourself with great kindness, "be your own best friend" and tend your moods gently, protecting them with love and connection.
Need a First Church Buddy? Contact us at care@firstchurchLB.org.
Keep the faith, keep safe, and – especially as this stretches on – keep in touch.
Sending love and prayers,
Elena Larssen
---
[1] 
"We have begun the dreaded third quarter of isolation, when – yes – things get weird," by James Purtill on 
triple J Hack
.
May 6, 2020
During this time of Stay-at-Home, many of our church groups are still meeting online: kids have been meeting with Mary Traylor and their advisors, the Sanctuary Choir has been socializing on Thursday evenings, and boards and committees have largely been meeting to stay connected and move forward on the projects that are possible. Our elected and volunteer lay leadership deserve great thanks and appreciation for keeping the life of the church lively! If you can, make sure to send them notes of thanks and encouragement. Truly, we are in this together.
Three times now for online gatherings and meetings, I've used an end-of-gathering benediction that I'd like to share with you here. St. Teresa of Avila (1515-1582) was a key figure in the Catholic Reformation from the Castilian region north of Madrid. She wrote extensively and her mystic works are considered the finest of their genre, possibly inspiring thinkers like Descartes. She wrote about her life and faith so excellently that it provides an account of that time period and her life far beyond what is typically available in historic records. Her life's work was to reform both female and male Carmelite Orders, and she was recognized forty short years after her death as a saint.
In my Protestant theological education, the Spanish saint was lifted up as a feminist icon who wrote with other-worldly beauty and a fearlessness about the sensuality of faith, a topic so few will dare to touch. Here is the prayer, edited in a collection by Caroline Kennedy. May it be a blessing to you today:
May you trust God that you are exactly where you are meant to be.
May you not forget the infinite possibility that are born of faith.
May you use those gifts that you have received, and pass on that love that has been given to you…
May you be content knowing you are a child of God…
Let this presence settle into your bones, and allow your soul the freedom to sing, dance, praise and love.
It is there for each and every one of us. [i]
Sending love and prayers,
The Rev. Elena Larssen
April 29, 2020
Dear First Church friends,
I hope this finds you well and sheltering with peace.
This Sunday will be a communion Sunday and is often called "Good Shepherd Sunday" because the 23rd Psalm is part of the lectionary, alongside the wildly hopeful story of the early post-Easter church in the Book of Acts. We all have questions about "how do we get through this valley of shadow" and "how will we re-gather," but those questions can be asked any time, not only in times of mass crisis. Those are questions that keep our spirits vital. "How do we get through" and "how do we come together" are life questions that we can ask to nurture the inner vitality of who we are and how we live.
For those who would like to know more about regathering I advise two things: one, stay skeptical and patient. No one thinks this stay-at-home will turn on a dime. Two, read what the Wisconsin Council of Churches under the direction of UCC minister Kerri Parker has published: "Returning to Church." It's the best published guideline yet in the church world, full of common sense and useful alongside secular guidance.
It is, of course, lambing season. If you want an adorable, playful reminder of what a good shepherd shepherds, please visit our dear friends at University Congregational UCC in Seattle for LambWatch2020.
In the meantime, know that you are loved and being prayed for by our church.
Peace and prayers,
Elena Larssen
April 22, 2020
When We Reopen Versus How We Regather
For our congregation and many community-based organizations, the question of when we can reopen is on everyone's minds. While no reopening date is realistically available to us, what the church's leadership is already doing is thinking about how we regather.
I wrote this "poem-as-planning" to share the vision for our regathering process. In the meantime, First Church is committed to offering (1) the best worship we can under the circumstances, (2) regular and transparent communication, and (3) frequent opportunities for all-ages community, spiritual support, and justice.
Reopen/Regather
We reopen when the city, state, and county say we may. Listening to you, Gov. Newsom.We reopen when our denominational leadership advise it. Listening to you, Dr. Villanueva of the United Church of Christ.
We reopen when our professional advisors recommend it. Listening to you, insurance company.
We reopen when our peer-organizations are opening again. Listening to you, Bayshore UCC and Temple Israel.
We reopen when the staff is secure that they can hold safe events. Listening to you, church staff and UCO staff and DAYS staff.
We reopen when we have access to enough supplies to sanitize after events. Listening to you, Maintenance Department.
We reopen when our appointed leaders have convened and made a judgement call. Listening to you, Emergency Response Team and Executive Committee of Church Council.
The question is not when. The question is how.
We regather modestly. When we are allowed to start regathering, it will likely be very small groups only.
We regather gradually, keeping online worship alive as a new part of our church life. Picture the ministers and choir leading a service when the congregation is still at home.
We regather with a segmented schedule. Like other countries, younger people may be allowed in public first. Picture the kids' programs being able to gather, while we keep adult programs online.
We regather and keep some things online. Some groups are finding that evening meetings are quicker and more inclusive online.
We regather without some of our favorites on the calendar. Sadly, some events will be postponed much longer than others.
We regather with a spirit of humility. Every program and group will have reduced capacity and goals, so we will put the wellness of the whole before the success of any one group or goal.
We regather with a spirit of service. Some people are suffering greatly while some are in relative comfort during the shut-down, meaning that regathering will reveal heightened disparities. We will respect each other's needs with love and non-judgement in thought, word, and deed.
We regather with faith. It is faith that allows us to seek wisdom in suffering, find new skills during times of duress, and remember that we love each other for better and for worse.
This is the meaning of church. Our hearts and minds are open to the ways and the days when we will regather.
Shifting our perspective from "when can we reopen" to "how shall we regather" activates our creativity and brings us to greater wisdom. Shifting our perspective is a way to shape a vision that will give us hope and help us endure. While endurance may not feel joyful, it is a path to wisdom. From the book of James: My brothers and sisters, think of the various tests you encounter as occasions for joy. After all, you know that the testing of your faith produces endurance. Let this endurance complete its work so that you may be fully mature, complete, and lacking in nothing.
Sending peace and prayers,
The Rev. Elena Larssen
April 15, 2020
Dear First Church friends,
Wow, what a beautiful Easter!
Thank you to everyone for being a part of something historic and special. At this writing, 645 viewers or devices (meaning at least one person and perhaps a whole household logged in on one screen) have been a part of our Easter Celebration this year. We are profoundly blessed that the Stay-at-Home order has not broken us but is instead drawing us together despite miles and obstacles.
Technology is helping us reach out to one another and to new friends. But there is an important question: who is being excluded by tech barriers? Thankfully, our Board of Christian Education is taking up the justice issue of tech access and looking for ways to support increased tech access by our community. To help or receive support, email Mary Traylor at mtraylor@firstchurchLB.org. As with much of our ministry at this time, we are figuring it out as we go.
But, as old saying goes: to go fast, go alone. To go far, go together.
Together, we are going far and discovering new ways to empower our community.
Sending love and prayers,
Elena Larssen
April 8, 2020
Dear First Church friends,
As Easter approaches, we need your help bringing flowers to Easter Sunday Service!
As you are able, email pictures of your favorite neighborhood flowers – your own pictures, please, or those of your friends – to AdreanaLangston at calalum dot org. We will use them to "decorate" our Easter service.
Another easy way to share and stay connected is Facebook. Join our group and add your flower photos to the "Easter Flower Photo Call" post.
All are welcome: bushes, trees, and other nature shots are invited, too.
During this unusual Holy Week, we can celebrate the impending rebirth of Easter by rejoicing in the beauty of our planet where we are all at home together.
Sending peace and prayers,
Elena Larssen
April 1, 2020
Dear First Church friends,
John Lennon famously said, "Life is what happens when you're busy making other plans."
It seems like every day is a kaleidoscope of no-plans or too-many plans, but the big picture is changed plans. Even within a day, the circumstances and needs of our church change and evolve, just as they do for individuals in this time. Adaptation takes energy, and it is normal to wish for stability.
If you find yourself struggling for some calm, please be kind with yourself. This strange time is a threat to spiritual health, and knowing that, we are providing times for gathering and connecting, listed here in The Pilgrim.
Looking ahead to Sunday, this Sunday is Palm Sunday, and we are celebrating from a distance with videos! Please send in a video of yourself waving your palms…now, those could be palm fronds, as is traditional. Or they could be your hands, waving. Either way, we thank Sarah Shimanek in advance for helping create an online Palm Processional for this year's Palm Sunday. Please email your video clips to slshimanek at mac.com. Deadline is noon on Saturday for inclusion in the Sunday service.
While the circumstances of the pandemic make challenge the plans we've made, the shake-up of our lives also reveals the enduring promises of faith:
we are never alone in the challenge of being human,
we can support one another even in unexpected ways,
creativity is an act of faith that heals.
Sending you love and prayers,
Elena Larssen
March 25, 2020
Dear First Church Friends,
I hope this finds you well, sheltering in place, and comforted in body and spirit!
The rapid pace of current events is sobering. But in all things we, as a church, are committed to sheltering at our spiritual address on the Corner of Justice and Arts. We know that, throughout history, people have been displaced and disoriented by their times. Yet faith is a moveable feast, and trust is the surprising gift of "enter(ing) fully into the pains and joys of life."
That phrase was written by the Rev. Dr. Ted Jennings, who was Professor of Biblical and Constructive Theology at Chicago Theological Seminary, whose recent passing from a stroke is news to our wider church this week (not virus related). He wrote the charge to the 2012 CTS Graduating Class, saying:
"And so, my friends, I charge you now to bear witness, in word and deed and in your very form of life:
Do not be conformed to the world that is perishing
but bear witness to the audacious promise that awakens hope for what the world knows is impossible:
water into wine, death into life, the coming of a justice rooted and nourished in love,
the arrival of the kin-dom of generosity and joy, and to the glad tidings that all creation is invited to the banquet.
Remember that the messiah summons us not into a new religion, but toward a new heaven and earth;
be agents therefore not of a mechanical legality but of bold improvisation, joining together the earthiness
 of the blues with the hope of the Gospel, so that all may join in the melodies of the beloved community.
Enter fully into the pains and joys of life: Do not flee suffering, neither your own nor that of your neighbor.
For even in the deep heart of sorrow we are not alone. Neither should you be reserved or inhibited in joy
and delight, for it is in joy that God's new creation is anticipated.
Your journey of faithfulness will be marked by times of danger, of temptation, of loneliness;
May you find courage in all peril, steadfastness in all trial, and noble companions for the journey.
And in all things may you be empowered and refreshed by the Divine Spirit
so that in all your ways you may be
found by grace,
infused by peace,
encountered by love,
lured by hope,
and astonished by joy.
Amen."
May these blessings be true for you today, dear First Church.
Keep the faith, wash your hands, keep in touch,
Elena Larssen
March 18, 2020
Dear First Church friends,
I hope this finds you well and able to shelter in place. Since Sunday, my family and I have been mostly at home in the manse, and my stress-relief baking is finally starting to abate. This is good, because we were drowning in sugar and starch.
At 241 Cedar, we are slowly and steadily deciding what our temporary normal will be:
Sunday Online Worship at 10 a.m.

The streaming starts early so you can adjust your personal tech.
The video is then available online for watching at your pace. This is a popular option; we had 122 devices tuned in during the initial webcast, but as of right now, the service has been viewed 702 times. As many as 18% of those are brand new to First Church! What a blessing, to be able to reach out even in distressing times.
Youth and Children Online Fun and Learning with Ms. Mary Traylor – look below at Mary's Message for details!

Church Campus is staffed Sunday through Friday from 9 am – 12 noon by the Maintenance Department, and the temporary online worship team will be here Sundays.
While we are reflecting on this new, temporary, normal, I must give heartfelt thanks to the Emergency Response Team. They have been texting with me for days now, shaping our plans and helping us find community-based solutions to this unprecedented situation.
Sending love and prayers,
Elena Larssen
P.S. If you are able to make a gift to help the church during this challenging time, please click here to go to our secure online donation page.
March 11, 2020
Dear Friends,
I hope this finds you well, calm, and with washed hands!
Our hands are so important to us: they symbolize our interaction with the world, even our sense of power and selfhood. It may be distressing to think of them as unclean or carrying germs.
Remember that the ancient people of our scriptures thought of "cleanness" and "uncleaness" as normal phases of everyday life. "Being clean" was a ritual state that was mediated by faithful actions. Being unclean was not a life sentence; it was a normal phase of life that could be handled with rituals like bathing, prayer, and periods of isolation and reunification with the community.
Even if you are feeling ill or gripped with concern, remember that there are simple rituals that protect us all. Handwashing, prayer, skipping an event to rest and stay home, checking in on vulnerable people: these are all rituals that contribute to a well community.
Chris Davies is a national staffer for the United Church of Christ and wrote this lovely poem of advice for times of sickness:
Advice for Every Day, and This Day Especially
Care for the community is more important than programs.
Listen to the disability activists. Structures that care for the most vulnerable will inherently care for everyone.
Wash your hands.
Connect to your own spiritual practices, whatever they are.
Text people and check in on them.
Meet your neighbors. Know who might need checking in on.
Make a plan.
Wash your hands again. Sing your favorite song to yourself.
Breathe. 
Perfect the air kiss greeting. 
Know that amplification is also real—there are many things at play, one is health, the other is how our systems can handle or respond to them.
Use technology. Schedule times to talk.
Disinfect your keyboard.
Develop a clear definition of what urgency is, for you, in your community. 
Don't panic. Breathe and check in. And check in on your people.
What else?
— The Rev. Dr. Chris Davies, Team Leader for Faith Education, Innovation, and Formation
My prayers and love are sent to you all, and let us know if are feeling unwell or need a call.
The Rev. Elena Larssen
elarssen@firstchurchlb.org
March 8, 2020
Dear First Church community,
What does it mean to be a church?
Yes, we have a building, but we are not a building.
Yes, we are a people, but we are more than just a collection of individuals.
Yes, we have a tradition, we are more than what has come before us.
Yes, we have a mission, but it's not to tell others how to think.
Being a church means coming together to learn, love, and serve. It means making change in a changing world. It means listening to the ancient teachings of Jesus and tuning in to hear the voice of hope in today's world. Church means connections that bring us wisdom and peace.
Our times are trying, and concern about elections and viruses are making tempers short in the media and even in our real lives. During anxious times, could we focus our vision on what is knowable and dismiss the flurry of speculation and gossip?
Together, we can. Together, we will keep up to date about the facts of the matters that worry our minds. And together, we will find wisdom for the peace of our hearts, staying connected with one another and our merciful God. This is our Lenten journey: 2020 Vision: Listening for Wisdom.
Keep calm, wash your hands, know you are loved,
Rev. Elena Larssen
February 9
Dear First Church,
This Sunday will be our Annual Celebration of Ministries and Meeting Luncheon!
All are welcome to stay after service for a salad luncheon in Ramsay Dining Hall with special music by our Music Department, reports and updates from the life of the church, and the presentation of the Ralph Pillsbury Award for special service to the church outside of the spotlight.
The lunch menu includes Greek salad (meat-free) and Greek salad with chicken gyro, rice, pita, and hummus from George's Greek Deli. There will be a free will offering, and all are invited to dine regardless of whether they make a financial contribution. All ages welcome.
The Annual Report will be available in a limited number of hard copies, with an electronic copy posted in the Member's Section of our website. Any member who would like one mailed to them in hard or soft copy should contact the Church Office.
Peace and blessings,
Elena Larssen
February 2
Dear First Church,
Our winter series, Coming to Peace, is off and running!
All adults are welcome to come at 9 a.m. for Adult Education in Booth Chapel. This Sunday we will discuss the hit film Knives Out. This Agatha Christie-style murder mystery is pure entertainment. Featuring a powerful cast of actors, the mystery unravels the dynamics of a family in full-blown dysfunction whose patriarch dies unexpectedly, leaving a fortune to the wrong person, and hilarity ensues. Using Bowen Family Systems theory and the genogram, with our scriptures in hand in multiple translations, we will attempt to diagram their convoluted relationships and see where peace could have prevailed instead of witty chaos.
In our service, we will focus on two of the most treasured Hebrew scriptures, Micah 6:8 and Psalm 23, both of which are recipes for peacemaking. Our children will be studying and experiencing Micah 6:8 as their Sunday School theme of the month as well. As is our custom, communion will be served, and all are welcome to the open table.
Peace,
The Rev. Elena Larssen
January 26
Dear Church,
Winter is a wonderful time to reflect. The shorter days and after-holiday hush give us time to consider where we need to grow and what gifts we may have to share with the wider community. It is also one of my favorite seasons: Award Season, when the creative industry crowns its annual achievers in film, television, music, and more. Maybe in SoCal it's not winter as much as it's award season…!
Starting this Sunday, the 9 a.m. Adult Education class will focus on the intersection of faith and film. We are examining the structure of families in four current award nominees and seeing how the patterns of family interaction either support or undermine the experience of peace. Then, in worship, we will be reading scriptures from the lectionary with an eye toward their peace-making lessons. All are welcome; spoilers will be discussed.
Peace,
The Rev. Elena Larssen
January 19
Dear First Church,
This Sunday marks a celebration of the life and ministry of Dr. Martin Luther King, Jr.
With thanks to our Worship and Arts Team, we will have a dramatic reading of what was perhaps Dr. King's most controversial speech. "Beyond Vietnam" was preached at the famously progressive Riverside Church (United Church of Christ, like FCCLB, and American Baptist in its affiliations) in New York City on April 4, 1967. While his words contained detailed policy recommendations on the then-current Vietnam War, our reader's theatre version will focus on the passages which are both alarmingly and comfortingly relevant to today's struggles for peace and climate action.
       Moss Umezaki                        Martha Duncan
      Tina Datsko                            Adreana Langston
I look forward to seeing you all for this special observation. I am almost to the end of a two-week intensive on research methodologies at my seminary, the Pacific School of Religion in Berkeley, CA. This is the initial exposure to a Doctor of Ministry program; this kind of advanced praxis program is designed for full-time working professionals who are actively engaged in a ministry setting and who have continuing education requirements to satisfy for their authorization for ministry. While I am still discerning whether this is the right on-going educational program for me, it is a blessing to simply have time in the theological library and in rigorous conversation with other scholar-practitioners. This morning I will lead our opening devotionals by teaching Paul Boyd-Batstone's ukulele chorus "The Blessings of God upon You!"
And may those blessings be with us all: campers at Pilgrim Pines, marchers in the MLK parade and Women's March, those who celebrate and serve at 241 Cedar this Sunday, as we seek to keep the flame of Dr. King's vision of justice alive in our times.
Peace,
The Rev. Elena Larssen
January 12
Dear Friends,
Thank you to those who are reaching out on Facebook to connect with each other in the face of many global concerns. Connection is a key to our well-being, and remember Mary Pipher's words: action is the antidote to despair. I encourage you to take the next step and meet with friends and family in real life, to talk and even perhaps to share words of prayerful support. I am finding the following blessing deeply meaningful, and find myself reading it again and again. I share it with you now:
Written and prayed by Episcopal priest the Very Rev. Brian Baker as his "gift" at Burning Man 2015
The world now is too dangerous
And too beautiful
For anything but love.
Love is a blessing.
So may your eyes be so blessed that you see God in everyone
Your lips  – so you speak nothing but the truth
Your ears – so that you hear the cry of the poor
May your hands be so blessed that everything you touch becomes a sacrament
Your feet – so that you run to those who need you
And may your heart be so opened
So set on fire
That your love
Your love
Changes everything.
Amen.
Peace,
The Rev. Elena Larssen